Assassin's Creed 2 Resource Pack
28,003
views ❘
August 30, 2016
About Assassin's Creed 2 – SFX – Resource Pack
Assassin's Creed 2 Resource Pack will change your Minecraft background music, music discs  and some sound effects to those from Assassin's Creed 2. It also includes some splash texts for the main menu.

Assassin's Creed 2 – SFX – Resource Pack Features
Background Music: Changed all to the soundtracks from AC2.
Music Discs: Changed to some Animus background music, Leap of Faith, Florence Tarantella, Obstacle Timer, Tomb Stone Opening, Venice music.
Nether Portal Sounds: Changed to Animus loading and memory sequence starting.
Mob Sounds: The mobs will give out an ALERT sound at random times and villagers will say the Creed Maxim "Nothing is True, Everything is Permitted".
Other Sounds: Taking xp orbs gives off the pickpocketing sound, leveling up gives off the healing sound and the opening a chest sounds like opening a treasure chest from the game.
Assassin's Creed 2 Resource Pack Banner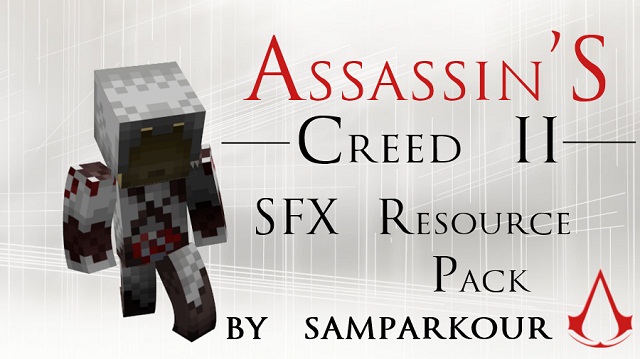 Assassin's Creed 2 Resource Pack Review Video
How to install:
Download links for Assassin's Creed 2 Resource Pack
Tags: