Better Than Cats Mod
Author: Manzy ❘ September 19, 2013 ❘ 21,919 views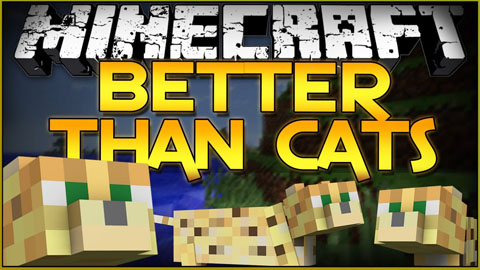 Better than cats mod is a mod made from fun, boredom, and the necessity of making ocelots less worthless! Feel free to enjoy!
When starting out in this mod you should kill as many ocelots as you can to gather their souls and leather.
Recipes:
Spoiler
Cat leggings will give you jump boost and they will negate any fall damage.
Cat boots will give you speed when worn.
Cat Chestplate gives you haste 3 when worn.
WEARING ALL THE ARMOR WILL GIVE YOU WATER BREATHING!
Smelting cat souls will give you cat ingots.
These lens's are used in making cat goggles.
Cat Goggles will give you nightvision when worn.
Cat Blocks are worthless at the moment.. If you right click the block, the cat will purr.. if you punch the block, the cat will yelp.
Smelting the Cat Block will give you the "cat" music disc.
Cat Bricks
Cat Sword's will make a meow noise when you block.
How to install Better Than Cats Mod for Minecraft:
Download and install Minecraft Forge.
Download mod.
Extract file.
Put all files into your /.minecraft/mods folder.
Done.

https://dl.9minecraft.net/index.php?act=dl&id=1379595903
Tags: