Blfngl's Dishonored Mod
30,262
views ❘
April 24, 2013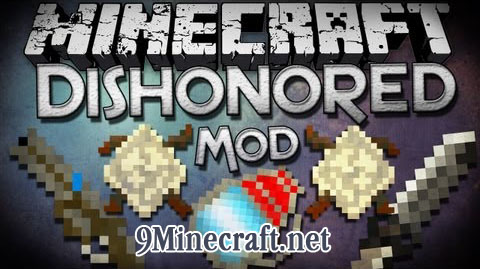 This mod takes the equipment, items and abilities from the game Dishonored, by Arkane and published by Bethesda and incorporates them into Minecraft.
Recipes:
Items:
Barrel – used in crafting certain weapons
Hilt – the hilt of a sword or gun based weapon (this is definitely not Count Dooko's lightsabre hilt)
Trigger – the firing mechanism of certain weapons
Bone Charm – a crude pendant made of bone
Rune – a mysterious pendant granting the user incredible power
Weapons:
Corvo's Folding Blade – Corvo's preferred sword
City Watch Pistol – run of the mill pistol
To reload ->
Depending on what ammo you use, the gun will be different.
Bullet (Standard) – Pistol ammo
Bullet (Guard's Variant)
Crossbow – a deadly, silent and long range weapon.
To reload, it's the same as the gun but with bolts. So far there's only one type.
Bolt – ammo for the crossbow
Powers:
To use a power, right click with the charm or rune in your hand. Each bone charm has 25 uses and each rune has 40.
Charms:
Acrobat – improves jump
Whirlwind – hastens swings
River Affinity – allows for breath underwater
Powers:
Blink – short range teleportation
Dark Vision – night vision
Filler recipe
Agility – walk speed increased
Filler recipe
Everything Else:
Corvo's Mask – purely aesthetic ATM. Has protection of chain and no recipe
Piero's Remedy – regeneration of health
Solokov's Elixir – regeneration of health…for longer
Installation:
Download and install Minecraft Forge
Download Blfngl's Dishonored Mod
Put Blfngl's Dishonored Mod zip file into your /.minecraft/mods folder. Do not unzip it.
Done

https://dl.9minecraft.net/index.php?act=dl&id=1366804381
Tags: