Dead Minecraft Mod
62,723
views ❘
May 8, 2013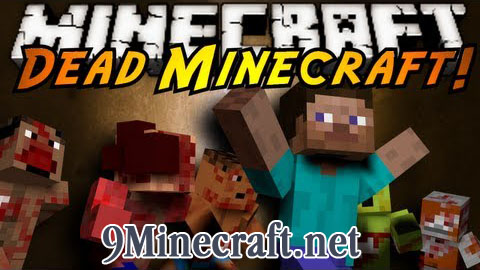 It is based on the PS3 game -Dead Island-, and has 39 weapons, 2 structures, 1 firearm, throwable weapons, 6 new kinds of zombies and alot of epicness.
Screenshots:
YOU WILL NOT LAST ONE NIGHT ON HARDCORE MODE
KINDS OF ZOMBIES
Zombies have several textures each so it's more realistic. They can all break down doors and are hungry for villager blood. They also only come out at night, due to over spawning. They will not burn.
BUTCHERS
These guys are tough. Fast and deadly just like in Dead Island.
RAMS
They will charge straight at you. 105 Health, these guys are some tough cookies.
WALKERS
Traditional zombies. Spawn in packs and are stronger then vanhilla zombies.
INFECTED
Like walkers, these guys spawn in packs, but are more rotten and ugly. These guys can ran very fast.
SUICIDER
These guys are seriously messed up. Stay away from them or you will boom.
THUGS
These guys aren't to dangerous, but they pack a punch. They are a bit slower then walkers.
YOU CANT RUN
These guys will blast through your doors. Stay away from villages at night.
Weapons has a different effect, from throwing them, to wacking machinery to bits or setting certain mobs on fire
KNIFES: These are throwable by rightclicking. You won't get them back though so only throw them when they are nearly destroyed.
MACHETE, KATANA AND SICKLES: These items will cut through leaves very quickly. Also you can electrify the machete and katana.
SLEDGEHAMMER AND CROWBARS: The sledgehammer will whack all mobs 0.1F into the air. Also it and the crowbars can destroy machinery much quicker.
COOKED ROTTEN FLESH: With all the zombie bashing going on, you are going to collect quite a few rotten flesh. Smelt this to give yourself some cooked rotten flesh which restores 3 hearts and has a 1/8 chance of poisioning you.
FIREARMS: So far only the pistol can shoot. You need gold bullets in your inventory. Also you can only find pistols in my structures, not dungeons or chests around the world.
Structures
These will have mod items in it hidden under the ground.
CRATES
You have to right click these with steel crowbar's to open them up. Bug: They will spawn a ghost item

Installation:
Download and install Minecraft Forge
Download Dead Minecraft Mod
Put Dead Minecraft Mod zip file into your /.minecraft/mods folder. Do not unzip it.
Done

https://dl.9minecraft.net/index.php?act=dl&id=1368031092

https://dl2.9minecraft.net/index.php?act=dl&id=1368030754
Tags: