Ender Tools and More Mod
51,216
views ❘
May 12, 2013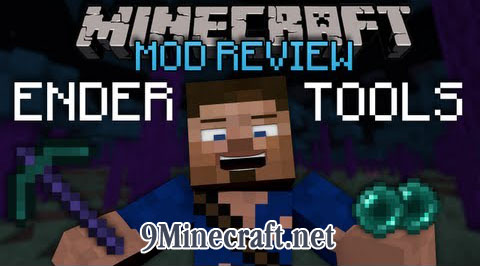 This mod adds very powerful tools and armour made of ender Ingots. The mod adds a couple new items and blocks, it also adds a new ore called Demonite ore. It can't be destroyed by tnt so it is good block to build with, Demonite ore can only be mined with an endstone pickaxe so you will have to make a trip to the end before you mine the Demonite ore.
Ender tools have 3000 durability and are way faster than diamond tools. Also Endstone tools have 1250 durability and have a speed of diamond, the reason why you will want this pickaxe over a diamond pickaxe is because the Endstone pickaxe is the only pickaxe that can mine Demonite ore. And there is a new boss mob called the Ender Mage he has 100 hearts of health and he deals 5 hearts of damage every hit and he drops Ender Gems which can be crafted in to armour and a very epic sword
Screenshots:
All of the items that this mod will add to Minecraft.
As you can see this mod adds Ender tools and armour and also Endstone tools, the other items in the mod are Demonite Gemstone, Ender Dust, Ender Ingots and Obsidian Sticks.
Here is what the Ender armour looks like
Here is what Demonite ore looks like
Here is what The Ender Biome Looks like
Here is What the Endstone armour looks like
Here is what the Ender Mage looks like
Here is what the Ender Ninja looks like
Here is what Leather Chain armour looks like
Here is what Ender Mage armour looks like
Recipes:
Installation:
Download and install Minecraft Forge
Download Ender Tools and More Mod
Put Ender Tools and More Mod files into minecraft.jar
Start up Minecraft and it should work

https://dl.9minecraft.net/index.php?act=dl&id=1368375162
Tags: