Famous People Mod
Author: wasliebob ❘ April 9, 2013 ❘ 31,117 views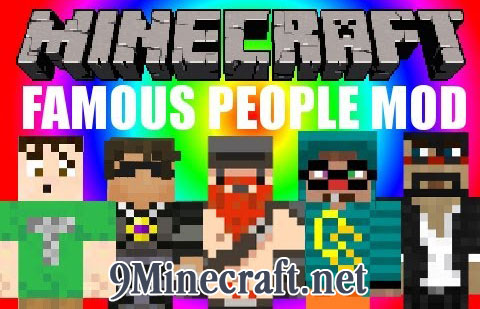 Famous Mod is a mod that adds 43 Famous people to you're minecraft. This mod also add some weapons and blocks, and Famous items
Famous People:
SkyDoesMinecraft (SkyDoesMinecraft)
Joebuz (TheAtlanticCraft)
TheCodyMaverick (TheAtlanticCraft)
Honeydew (Yogcast)
Xephos (Yogcast)
Sips (Yogcast)
Sjin (Yogcast)
Antvenom (AntVenom)
IpodMail (IpodMail)
CaptainSparklez (CaptainSparklez)
CaveManFilms (CaveManFilms)
MinecraftUniverse (MinecraftUniverse)
Wasliebob (Famous Mod Developer)
BebopVox (BebopVox)
Notch (Mojang)
HuskyMudkipz (HuskyMudkipz
Deadlox (Deadlox)
Jeb (Mojang)
ChimneySwift11 (ChimneySwift11)
xXSlyFoxHoundXx (xXSlyFoxHoundXx)
ThnxCya (ThnxCya)
paulsoaresjr (paulsoaresjr)
Mr360Game (Mr360Game)
Ninjaprolog (Ninjaprolog)
Hypixel (Hypixel)
SethBling (SethBling)
ihascupquake (ihascupquake)
Setosorcerer (Setosorcerer)
Gizzy Gazza (Gizzy Gazza)
KermitPlaysMinecraft (KermitPlaysMinecraft)
SSundee (SSundee)
DawnDigsMinecraft (DawnDigsMinecraft)
TCTNGaming (TCTNGaming)
MrGibbsPowerOn (MrGibbsPowerOn)
Hannah (Yogcast)
Duncan (Yogcast)
Martyn (Yogcast)
GameChap (AdamzoneTopMarks)
Bertie (AdamzoneTopMarks)
SCMowns (SCMowns2)
Three Secret one's ……..
Items, Drops:
Budder: Drop From SkyDoesMinecraft
Squid Ingot: Drop from SquidMan
Atlantic Ingot: Drop from Joebuz, TheCodyMaverick
Ninja Ingot: Drop from Sasuke, Naruto, TheNinjaProlog
Jerry's Sword: Drop from CaptainSparklez
Jaffa: Drop from Honeydew
Recipes:
Spoiler
Budder Portal:
"GBG"
"BGB"
"GBG",
G = Gold Block
B = Budder
Red Stone Brick
Put an Brick and 1 redstone in the crafting table.
Blue Stone Brick
Put an Red Stone Brick in the crafting table.
Budder, Atlantic, Ninja, Squid:
These sword's are crafted like vanilla once only with other ingot's.
Handle
Iron Ingot, Leather
Fire Blade
Block of Gold, Block of Diamond, Lava Bucket
Hero Blade
6 Block of Diamonds
Herobrine Killer
"-H-"
"-D-"
"-S-"
H = Hero Blade
D = Diamond
S = Handle
Fire Sword
"-H-"
"-D-"
"-S-"
H = Fire Blade
D = Diamond
S = Handle
Wand Of Notch
"S–"
"-S-"
"–D",
S =  Blaze rod
D = Block of Diamonds
– = Nothing
Screenshot: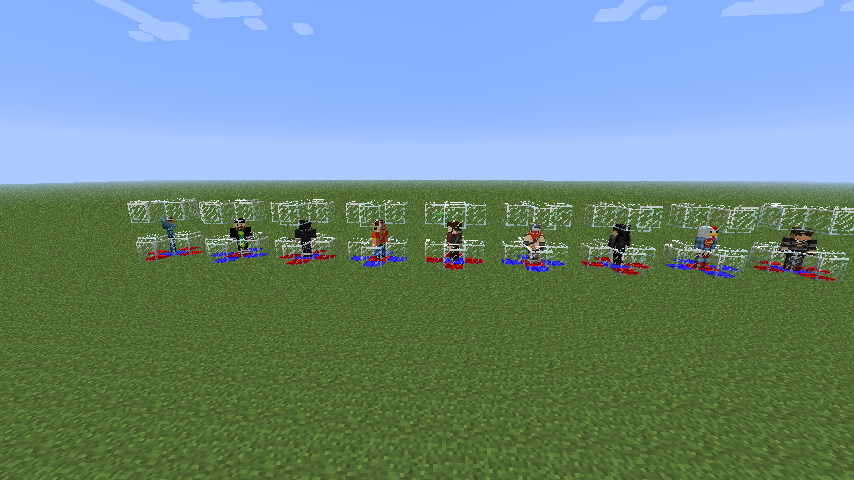 Installation:
Download Minecraft Forge and Famous People Mod
Go to you're files and in the top bar type, "%appdata%".
Then goto roaming and in there, there is a map named ".minecraft"
Open that one and search for a map named bin.
In that map there is a file called minecraft.jar, open that and put Minecraft Forge, and Famous in there.
Startup your minecraft and have fun!

https://dl4.9minecraft.net/index.php?act=dl&id=1365478803
Tags: