Forgotten Nature Mod
41,694
views ❘
September 8, 2013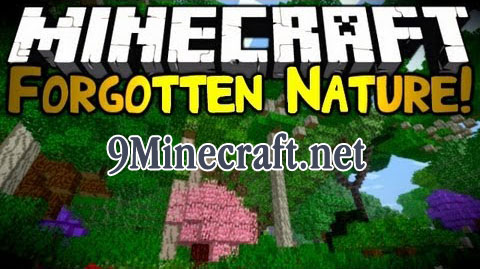 Features:
38 new trees/bushes and 7 new Biomes. Each tree is partial to a specific biome.
Many new trees grow fruit/nuts, have their own saplings and work with bonemeal.
Each tree and biome is optional inside the ForgottenNature.cfg file.
Includes something similar to the timber mod. Use an iron axe or better.
All blocks and saplings are available in the creative menu.
10 new flowers. These flowers can be 'bonemealed.'
44 new leaves, 23 new logs, 37 saplings/bushlings, 2 mushrooms/giant mushrooms.
22 new planks. Made from new logs and/or any log + colored stain.
16 new glass blocks.
5 new stones: Granite, Gneiss, Hornfels, Marble, Chert.
6 new stone brick blocks.
8 fruit blocks. Break to drop fruit.
12 crystal blocks including a crystal 'torch'.
11 new colored fences, 11 new colored stairs, 11 new colored half planks.
10 fruit items, 5 new breads, 15 salads, 3 drinks, 4 nuts, 7 stains.
11 new tools including a saw.
More miscellaneous items.
Adds 18 crops including bamboo.
Crops have four stages instead of eight, yet they should fully mature at about the same time as wheat.
Adds 11 seed items which can be found in tall grass.
Adds 16 crop food items. These items give small and brief buffs.
Adds 4 crop goods: Cotton balls, hemp fibers,>Rope yarn,>Rope Strand.
Adds rope to Minecraft.
Craftable bowls of fruit/veggies each have their own unique set of benefits.
Plenty of configuration options!
Crystal Forest notes:
Blue grass when groundcover is disabled.
Light and Dark blue crystal trees.
Light and Dark blue crystal stones.
Focus-crystals spawn underground.
All crystal blocks glow (as shown)
Screenshots: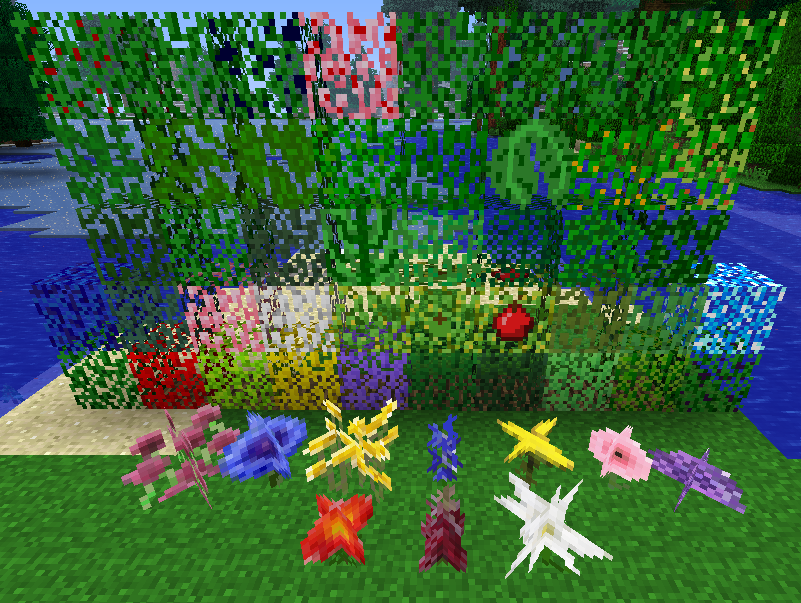 Leaves and flowers added.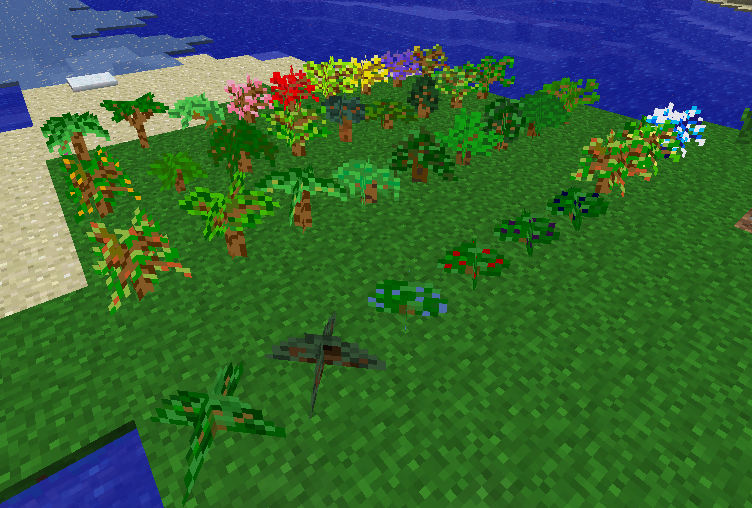 Saplings added.

Crops added.
Recipes:
How to install Forgotten Nature Mod for Minecraft:

Download and install Minecraft Forge installer
Download Forgotten Nature Mod
Put zip file into your /.minecraft/mods folder. Do not unzip it. If you don't have a mods folder, create one
Done
Changelogs:
v1.2.9
Added new material for tools and armor. Semi-secret… could still use recipe mods to find out
Can be disabled of course.
Fixed over a dozen bugs.
Can craft ice with four snow blocks.
Indexed all new stair IDs together.

For Minecraft 1.6.2
Other Versions:
Tags: