MedicCraft Mod
43,175
views ❘
March 5, 2014

This mod allows players to collect items, refine them and use them to heal themselves and others on or off the battlefield.
The New Plants:

Six new plants spawn around the world.
Plants are now a renewable resource so find them, transplant them and just wait for them to grow!
Note: In the config there is an option that will only allow plants under glass to grow. It's named Greenhouse mode.
Aloe Vera
Chamomile
Echinacea
Garlic
Ginseng
Flax
The New Items:
Most of these items are tiered, meaning you'll have to refine one item to obtain the next and so on. The harder the item is to make, the more useful it is during gameplay. i.e.a silk bandage will heal more than a linen bandage.
Spool of Linen Fibers
Spool of Silk Fibers
Sheet of Linen Cloth
Sheet of Wool Cloth
Sheet of Padded Cloth
Sheet of Silk Cloth
Linen Bandage
Wool Bandage
Padded Bandage
Silk Bandage
Aloe Soaked Silk Bandage
Chamomile Soaked Silk Bandage
Echinacea Soaked Silk Bandage
Garlic Soaked Silk Bandage
Ginseng Soaked Silk Bandage
If you also download and install SweetTea!, another mod of mine, you can also use all of these herbs to create New Teas!
Note: The following only applies if you have SweetTea! installed.
All plants can be brewed into teas
All teas can be sweetened. (Yup I live in the Southern part of the US.)
The Bandage Blocks: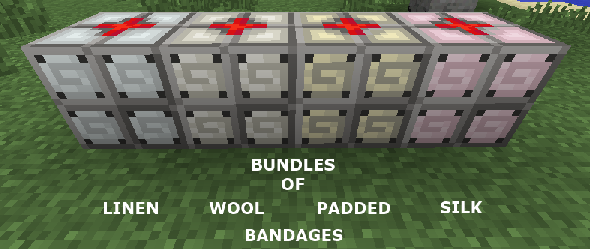 These can of course be used as storage, but if you want some fast healing in battle then you've found it! Place one of these bad boys on the ground near your combat zone and use the bandages contained inside by right-clicking them. Better than switching from your sword to bandage and back again, eh? Just don't right click them if you're still holding another bundle. It won't work.
Bundle of Linen Bandages
Bundle of Padded Bandages
Bundle of Wool Bandages
Bundle of Silk Bandages
Bundle of Aloe Soaked Silk Bandages
Bundle of Chamomile Soaked Silk Bandages
Bundle of Echinacea Soaked Silk Bandages
Bundle of Garlic Soaked Silk Bandages
Bundle of Ginseng Soaked Silk Bandages
The New Recipes:
This is a list of almost every recipe that I've added to the game. For those that aren't shown, they should be
easily discovered by using similar item recipes as templates.
How to install:
Download and install Minecraft Forge.
Download the mod.
Go to .minecraft/mods folder.
Drag and drop the downloaded jar (zip) file into it.
If one does not exist you can create one.
Enjoy the mod.

Other Versions:
For Minecraft 1.5.2
For Minecraft 1.7.2
Tags: