Minecraft 1.12 Snapshot 17w06a (New Blocks)
8,745
views ❘
February 13, 2017
Minecraft 1.12 Snapshot 17w06a ready for testing.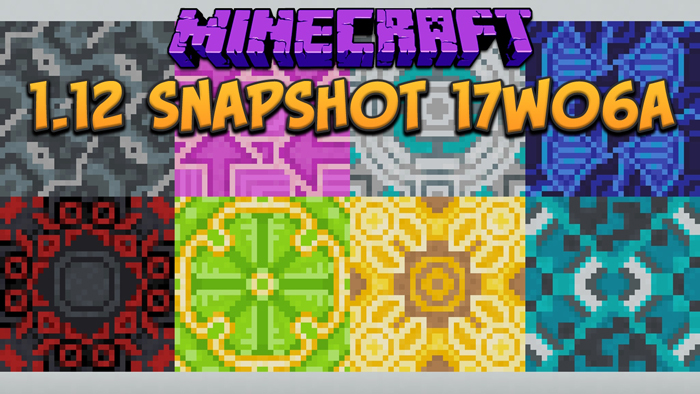 Featuring a look at changes to come in Minecraft 1.12, this is a very exciting time indeed:
You can now sleep near passive zombie pigmen
Magma blocks now burn infinitely
Updated map colors for the new color palette
Glazed terracotta blocks in 16 colors

Obtainable by smelting stained clay
Can be rotated
Different pattern for each color

A new set of blocks in 16 colors: Concrete powder

Looks and falls like sand
Turns into the new solid block when inside water
Animation
Crafting recipe: 4 sand in the corners, 4 gravel on the sides, a dye in the middle for 8 blocks

New wool, sheep and banner colors
A new block with 16 colors: Concrete block
It's now easier to get the "correct" painting when placing paintings

Paintings now take up the maximum space available to them when placed

It's now possible to save and restore hotbar items in creative mode

Use shift + 1/2/3/… to restore saved configurations, ctrl to save
Reordered creative menu a bit
Hotbars save across worlds and servers
CustomCreativeLock compound tag used on papers in unused save slots, prevents removing those items

Fixed some bugs

Fixed activator rails ejecting 2 high mobs to the wrong spot inside of 2 high rooms
To get snapshots, open your launcher and press the "New Profile" button. Call it "snapshots" and check the box saying "Enable experimental development snapshots" and save. To switch to the normal version, you can select it in the dropdown at the bottom left corner of the launcher. Back up your world first or run the game on in a different folder (See the "new profile" dialog). Snapshots can corrupt your world, please backup and/or run them in a different folder from your main worlds.
Minecraft 1.12 Snapshot 17w06a Download Links
Client: Download from Server 1 (.json)

Server: Download from Server 1
Tags: