Minecraft Snapshot 13w21a
Author: The Minecraft and Minecraft Realms teams ❘ May 24, 2013 ❘ 11,676 views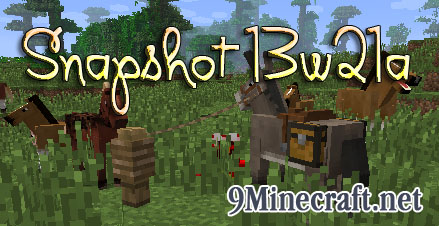 It's time for another exciting Snapshot! The Mojang crew was hanging in Monaco last week, but rest assured, this week's Snapshot is nothing shy of sweet! Let's see what's on the menu:
Features:
Added new UI for horses, to control saddle/armour/inventory.
Started to move over various things to a new Attribute system. You may see some new tooltips, don't be scared!
Lots of work towards a new Resource Pack system, but not finished yet. Currently still compatible with texture packs.
New internal chat system; lots of messages should be translated now that weren't previously.
Bugfixes:
Damaged Anvils do not show damage in inventory or item frame
XP Bar in creative
Hay Bales do not burn when set on fire
XP, Health and hungerbar are buggy with horses
Using a horse spawn egg on a horse works only when riding the horse
Can't throw enderpearls while mounting a horse
Player appearance not updating in multiplayer (armor, tools)
No way to remove armor or saddles off a horse
Horse name tag is shown while riding
Sides of cauldron has compass texture after placing compass in Item Frame
Bottom part of some types of horses-harness is misplaced
Selected item disappears when armor breaks

To get the snapshot, use the new launcher available in the link below. To return to 1.5.2, simply start the old launcher and play as normal.
Windows: Server 1 Download – Server 2 Download

MAC/OSX: Server 1 Download – Server 2 Download

Linux: Server 1 Download – Server 2 Download
Server files:
Cross-platform jar: http://s3.amazonaws.com/Minecraft.Download/versions/13w21a/minecraft_server.13w21a.jar

Windows EXE: http://s3.amazonaws.com/Minecraft.Download/versions/13w21a/minecraft_server.13w21a.exe
Tags: