Minecraft Snapshot 13w21b
Author: The Minecraft and Minecraft Realms teams ❘ May 29, 2013 ❘ 9,721 views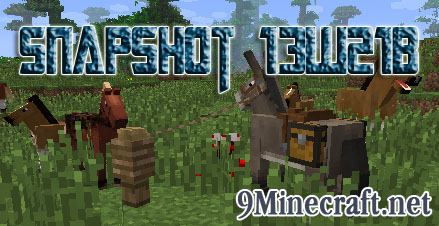 Snapshot 13w21b has been released and is available through the launcher.
Changelogs:
Certain death message will print "null" as the player/mob name that caused the death
Enchanted Items stored in a Donkey / Mule lose enchantments on its death
Sprinting and Speed effect not working
Server doesn't translate strings
Lava texture animation moves too fast
No sounds after a while / Music corrupting sound
Crash: IllegalArgumentException
Lang files for en_US is gramaticly incorrect at death.fell.finish.item

To get the snapshot, use the new launcher available in the link below. To return to 1.5.2, simply start the old launcher and play as normal.
Windows: Server 1 Download – Server 2 Download

MAC/OSX: Server 1 Download – Server 2 Download

Linux: Server 1 Download – Server 2 Download
Server files:
Cross-platform jar: http://s3.amazonaws.com/Minecraft.Download/versions/13w21b/minecraft_server.13w21b.jar

Windows EXE: http://s3.amazonaws.com/Minecraft.Download/versions/13w21b/minecraft_server.13w21b.exe
Tags: