Minecraft Snapshot 13w26a
11,211
views ❘
June 25, 2013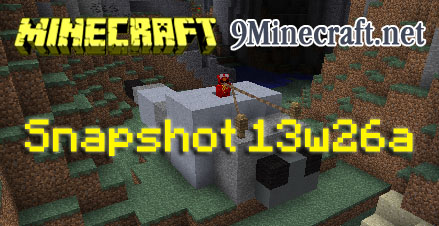 In case you haven't seen the front page of the launcher recently, Mojang Team is gearing up to releasing 1.6 very soon. To prepare, here's some more bug fixes! Don't break them all at once!
Changelogs:
Beacon Block Incorrect Texture When Surrounded by Blocks
Jack-o-lantern name is mispunctuated
Brewing stand feet's sides are transparent when placed against a wall
Splash potions particles are incorrect
Cactus texture error when near a wall
Mounting rideable entities (horses/boats/minecarts/pigs) underwater desyncs client/server (ghost mode)
Weighted pressure plates' names are too long to be renamed
Boats toss you off like horses
Horses make the galloping sound + their original walking sound at the same time
Horse jump bar becomes stuck if player is kicked off / dismounts while charging a jump
Jumping Sideways on an Unsaddled Horse
Health overflow isn't removed when health boost ends
Sun jitters when time is set to zero and doDaylightCycle is false
Horse "Gelding"
Sitting direction does not fit when riding a horse
Player induced Horse Jumps negate the Jump Boost Effect
Lag then crash on LAN world
List of languages only contains English (US)

To get the snapshot, use the new launcher available in the link below. To return to 1.5.2, simply start the old launcher and play as normal.
Windows: Server 1 Download – Server 2 Download

MAC/OSX: Server 1 Download – Server 2 Download

Linux: Server 1 Download – Server 2 Download
Server files:
Cross-platform jar: https://s3.amazonaws.com/Minecraft.Download/versions/13w26a/minecraft_server.13w26a.jar

Windows EXE: https://s3.amazonaws.com/Minecraft.Download/versions/13w26a/minecraft_server.13w26a.exe
Tags: