Minecraft Snapshot 14w04b
5,265
views ❘
January 25, 2014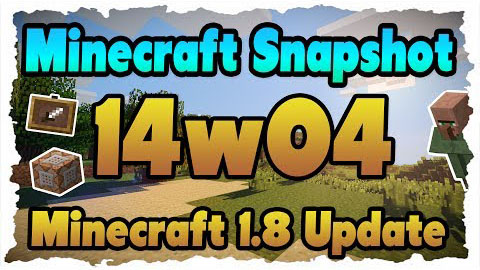 Minecraft Snapshot 14w04b has been released!
Bug fixed:
Skin Layers Appear to be Off when Travelling through Portals
Items & Blocks placed in item frames are rendered incorrectly
Items don't render on the ground properly
Killing a mob always gives you a rare loot (100% chance).
Server disconnects player when player takes damage from mob
Can not /setblock air on tile entities
Furnaces Stop Operating Between Launches
Grass under snow doesn't have the snowy texture
Item frames duplicate on (re)loading
Monster dungeons not spawning
Clock not showing in item frame
To get snapshots, open your launcher and press the "New Profile" button. Call it "snapshots" and check the box saying "Enable experimental development snapshots" and save. To switch to the normal version, you can select it in the dropdown at the bottom left corner of the launcher.
Download Links
Client: Download from Server 1

Server (Jar): Download from Server 1

Server (Exe): Download from Server 1
Tags: