Minegicka Mod
25,232
views ❘
July 12, 2013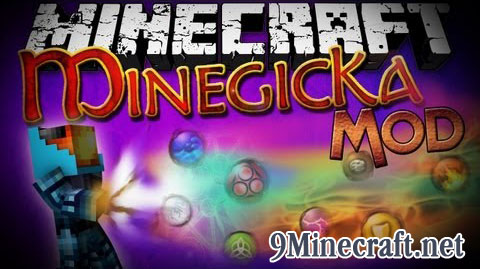 This mod add tons of spells that are combination of 10 elements, use your mind, your creativity to create over than 1000 possible spells and dozens-to-hundreds special spells that you'll never get bored
HOLD R TO CHANGE INTO AREA-CASTING-MODE!!! PEW PEW PEW!!!!!
Current state:
Added some Magicks, added Spells section, Basics section and Magicks section
Added altars, now elements are locked at first.
Finished allllllllll basic spells
Got some staves done
Magik dust: the core to the mod
Magik book: you need this in your inventory to cast spell
Magik book now have guis.
Screenshots:
New lightning, beam, ice render, new walls model, new BLOCK!!!!
Shield-based and Area-projectile-based spells
Projectile
Novas
Sprays
`
Beam
Lightning
Installations:
Download and install Minecraft Forge installer
Download Minegicka Mod
Put Minegicka Mod zip file into your /.minecraft/mods folder. Do not unzip it.
Done
Changelogs:
Added 3 quality levels for beams, lightning, ice projectile and ground ice
Removed beam target-locking, and is now pretty smooth
Lightning and novas nerfed
Beams and sprays powered up
Changed walls model to old Minegicka 1 model
Added dust generators, MKI, MKII and MKIII
Recipes for ice staff is now Elemental staff + 3 snow blocks
Changed option section buttons
Added option to change hud corner
Glow-in-the-dark sprays, lightning and beams
Added items, blocks and staves section in Magik Book
Fixed magicks when unlocked will not be displayed
Fixed most (or all) SMP bugs where spells are incorrectly rendered, unlocked things get locked back

For Minecraft 1.6.2
http://www.mediafire.com/?nbh3bd7hia8fidv
For 1.7.10, 1.7.2
Tags: