More Notches Mod
40,648
views ❘
September 9, 2013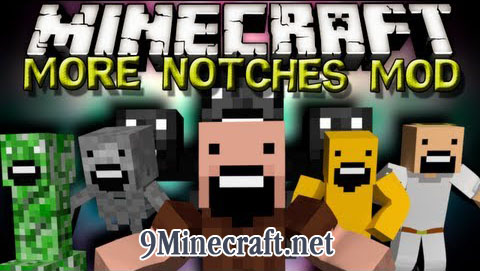 More Notches Mod is an mod that Adds 13 new Notches into your minecraft. Some of The Notches also have special abillities! More Notches Also adds 8 New swords.
Screenshots:
Notches:
Slender Notch:
Hell Notch:
Zombie Notch:
Ghost Notch:
Notch:
Shaved Notch:
Friendly Notch:
Creeper Notch:
Skeleton Notch:
Butter Notch:
Wither Notch:
Didn't want to do The Photoshoot (Destroyed everything)
God Notch:
Angel:
Squid Notch:
Corrupted Angel:
Dimension:
Heaven:
Abilities:
Slender Notch: Giving you blindness and some other effects.
Hell Notch: Will set you on fire.
Creeper Notch: Will make a huge explosion, and will spawn new Creeper Notch around him
Friendly Notch: Fights for you.
Butter Notch: Hired by The Sky Army to defend you from you're biggest enemy!
Wither Notch: Will do the same as the normal wither and it will also give you the blindness effect.
God Notch: Right Click to start the story!
Angels: Right Click to trade
Note's: Some of the mobs are only spawning in a special biome (As Example, Hell Notch in The Nether). The Amulet is a drop from the Wither Notch.
Recipes:
Transator:
"-D-",
"-G-",
"-D-",
D = Diamond
G = Gold Ingot
Transporter:
"-D-",
"-G-",
"-D-",
D = Notchica
G = Slender Ingot
Items, Drops:
Hell Sword: Crafted with Hell Ingot.
Ghost Sword: Crafted with Ghost Ingot
Zombie Sword: Crafted with Zombie Ingot
Slender Sword: Crafted with Slender Ingot
Skeleton Sword: Crafted with Skeleton Ingot.
Creeper Sword: Crafted with Creeper Ingot.
Wither Sword: Crafted with Wither Ingot.
Butter Sword: Crafted with Butter Ingot.
Cheat Sword: This is no drop, you can only get it from the creative tab..
Call of Notch:  This Block will spawn in a stone house in Heaven right click to activate it!
All the ingots are drops from the Notch Type it is named after.
The Swords are crafted with the Normal Recipies for swords but then with The More Notches Ingots!
How to install More Notches Mod for Minecraft:

Download and install Minecraft Forge installer
Download More Notches Mod
Put zip file into your /.minecraft/mods folder. Do not unzip it. If you don't have a mods folder, create one
Done

For Minecraft 1.6.2
For Minecraft 1.5.2
https://dl5.9minecraft.net/index.php?act=dl&id=1367670041
Tags: