Nightmare Mode Command Block
36,643
views ❘
October 6, 2015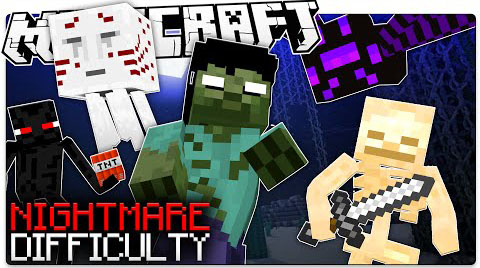 A new minecraft difficulty, NIGHTMARE MODE, where mobs are harder to kill and even less forgiving. Skeletons with weapon swaps, poisonous spiders, even EXPLODING ENDERMEN, all with this minecraft custom command that takes only one command block!
Features:
Zombies can all break through doors.
Zombies and Skeletons have their respective heads, thus do not burn in the day time.
Spiders will immediately be replaced by Cave Spiders of the same strength.
Ghast Fireball's explosions will be *5 as large.
Rabbits are all Killer Rabbits
Skeletons, when approached by foot, will switch to an iron sword when the player is close, and back to a bow when the player goes away.
Creepers do not spawn.
Endermen now will carry TNT, and explode when you are near them.
Zombie Pigmen are always aggressive.
All hostile mobs have roughly double attack damage, health, and follow range.
Command Block Showcase:
How to install:
To add any one-command creation to your world, first give yourself a command block with /give @p minecraft:command_block.
Next, place it and paste the following command inside it.
Command:
For Minecraft 1.8
Lite Edition (ZOMBIES BREAK THROUGH DOORS REGULARLY)
https://dl4.9minecraft.net/Command/Nightmare-Mode-Command-Block.txt
Lite Edition+ (ZOMBIES BREAK THROUGH DOORS AUTOMATICALLY, + IRON DOORS)
https://dl4.9minecraft.net/Command/Nightmare-Mode-Plus-Command-Block.txt
Tags: