Potions and More Mod
Author: Mark719 ❘ May 22, 2013 ❘ 24,785 views

A new mod that changes Minecraft potions for the better, giving you the ability to change each potion to suit your needs. Also giving the ability to manage and grow your own ingredients to keep your potions topped up.
Features:
50 + Potions
14 + New growable ingredients
No generation required, can be added to an old world
Stack size Config, make potions stack from 1-64
Screenshots: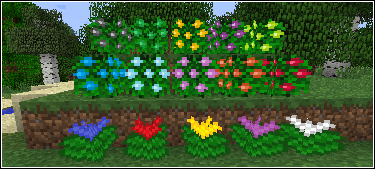 Most of the potions: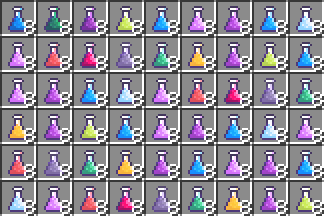 All other misc items: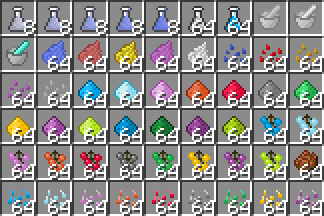 New mob farmer:
Information & How the mod works:
Spoiler
This mod adds many potions, but luckily they are very easy to understand and craft.
First thing you will have to do when using this mod is to make sure you have some Gold Ingots, once you have some of these you will need to go searching for a Farmer, the Farmer is a new passive mob that spawns only in swamp biomes.
Once you have found a farmer, right click him with a Gold Ingot and he will give you 3 seeds for a new random bush. You can do this as many times as you want, but the Gold Ingot will be given to the Farmer, so make sure you have a few.
When you have some bush seeds you can start growing them in the same way as normal crops in Minecraft, these bushes drop a certain berry depending on the bush you planted. These berries correspond to the type of potion you are making.
You can also find another type of plant seeds by breaking tall grass, there are 5 different types of these plants, Blue, Red, Yellow, Purple and White. These again can be grown the same way as other crops and they drop petals, these petals are used in making the base potion.
Base potions are where you start when creating a potion, each base potion has a special ability that modifies the potion when crafted, these are:
Basic Potion – Give you a standard potion
Quick Potion – Halves the time the potion takes to drink
Potent Potion – Doubles the time of the potion
Refined Potion – Makes the potion instant, no drinking time
These can be added with Potion Mixtures to create different potions like, Damage, Regeneration, Fire Resistances, Healing, Damage Resistances, Night Vision, Invisibility, Movement, Antidote, Damage II, Regeneration II & Movement II.
Each Potion mixture is created by a certain time of berry mixed with sugar and added in a Pestle and Mortar.
Potion information & Effects:
Normal Potions:
Strength Potion – 3 Minutes Damage Boost I
Water Breathing Potion – 3 Minutes Water Breathing
Regeneration Potion – 3 Minutes Health Regeneration I
Fire Resistance – 3 Minutes Fire Resistance
Healing Potion – Heals 4 Hearts
Night Vision Potion – 3 Minutes Night Vision
Invisibility Potion – 3 Minutes Invisibility
Damage Resistance Potion – 3 Minutes Damage Resistance
Movement Potion – 3 Minutes Movement boost I
Strength Potion II – 3 Minutes Damage Boost II
Regeneration Potion II – 3 Minutes Health Regeneration II
Movement Potion II – 3 Minutes Movement boost II
Antidote Potion – Removes all potion effects
Smooth Potions:
Strength Potion – 3 Minutes Damage Boost I – Takes half the time to drink
Water Breathing Potion – 3 Minutes Water Breathing – Takes half the time to drink
Regeneration Potion – 3 Minutes Health Regeneration I – Takes half the time to drink
Fire Resistance – 3 Minutes Fire Resistance – Takes half the time to drink
Healing Potion – Heals 4 Hearts – Takes half the time to drink
Night Vision Potion – 3 Minutes Night Vision – Takes half the time to drink
Invisibility Potion – 3 Minutes Invisibility – Takes half the time to drink
Damage Resistance Potion – 3 Minutes Damage Resistance – Takes half the time to drink
Movement Potion – 3 Minutes Movement boost I – Takes half the time to drink
Strength Potion II – 3 Minutes Damage Boost II – Takes half the time to drink
Regeneration Potion II – 3 Minutes Health Regeneration II – Takes half the time to drink
Movement Potion II – 3 Minutes Movement boost II – Takes half the time to drink
Antidote Potion – Removes all potion effects – Takes half the time to drink
Potent Potions:
Strength Potion – 7 Minutes Damage Boost I
Water Breathing Potion – 7 Minutes Water Breathing
Regeneration Potion – 7 Minutes Health Regeneration I
Fire Resistance – 7 Minutes Fire Resistance
Night Vision Potion – 7 Minutes Night Vision
Invisibility Potion – 7 Minutes Invisibility
Damage Resistance Potion – 7 Minutes Damage Resistance
Movement Potion – 7 Minutes Movement boost I
Strength Potion II – 7 Minutes Damage Boost II
Regeneration Potion II – 7 Minutes Health Regeneration II
Movement Potion II – 7 Minutes Movement boost II
Refined Potions:
Strength Potion – 3 Minutes Damage Boost I – Drink potion almost instantly
Water Breathing Potion – 3 Minutes Water Breathing – Drink potion almost instantly
Regeneration Potion – 3 Minutes Health Regeneration I – Drink potion almost instantly
Fire Resistance – 3 Minutes Fire Resistance – Drink potion almost instantly
Healing Potion – Heals 4 Hearts – Drink potion almost instantly
Night Vision Potion – 3 Minutes Night Vision – Drink potion almost instantly
Invisibility Potion – 3 Minutes Invisibility – Drink potion almost instantly
Damage Resistance Potion – 3 Minutes Damage Resistance – Drink potion almost instantly
Movement Potion – 3 Minutes Movement boost I – Drink potion almost instantly
Strength Potion II – 3 Minutes Damage Boost II – Drink potion almost instantly
Regeneration Potion II – 3 Minutes Health Regeneration II – Drink potion almost instantly
Movement Potion II – 3 Minutes Movement boost II – Drink potion almost instantly
Antidote Potion – Removes all potion effects – Drink potion almost instantly
Legends Potions:
Warrior Potion – 7:00 Damage Boost I – 7:00 Haste Boost – 7:00 Fire Resistance – 7:00 Damage Resistance
Assassin Potion – 7:00 Damage Boost I – 7:00 Speed Boost – 7:00 Jump Boost – 4:00 Invisibility
Priest Potion – 7:00 Damage Boost I – 3:30 Regeneration Boost I – 7:00 Damage Resistance
XP Potion – Once drank this potion will store 30 experience levels in the potion, you can drink this potion again to regain the levels
Installation:
Download and install Minecraft Forge
Download Potions and More Mod
Put Potions and More Mod zip file into your /.minecraft/mods folder. Do not unzip it.
Done

https://dl3.9minecraft.net/index.php?act=dl&id=1369185266
Tags: