Spawn Block Map
Map types: Survival
Author: theTrixFixz ❘ September 26, 2016 ❘ 28,079 views
Spawn Block Map Story
Spawn Block Map. You start on a small island of dirt with with nothing on it except from a few fences and a spawner. There are lots of other spawners suspended in the air around you. The spawner on your island will produce zombies holding dirt blocks. Kill the zombies and you get the dirt they're carrying. Get enough dirt and you can expand out to other spawners to farm other blocks that mobs are holding (wood, cobblestone…). Find zombies carrying ores and kill them to make armor and weapons. Once you've got enough materials get some obsidion and head to the nether, where you can find even more mobs and items. And if you're feeling really brave head to 'the end' and face off against the ender dragon.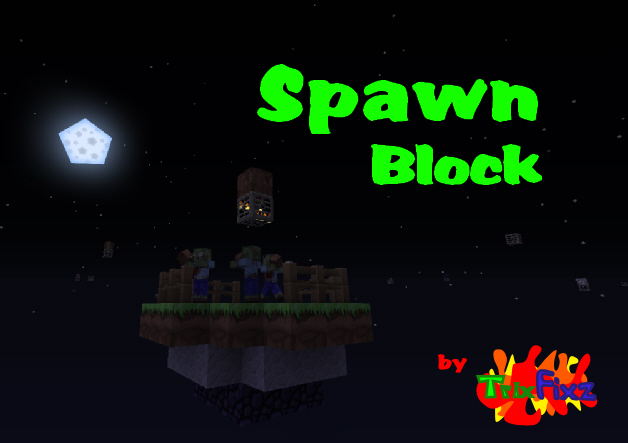 Spawn Block Map Screenshots:
Pictures from djjustin14
Grid Layout
House
Mob Trap
Pictures from cannajan
Spawn Block Map Intro:
Survival Challenges:
Easy
1. Survive the first night
2. Make some stone weapons and tools
3. Make an animal farm (sheep,cows,chickens)
4. Make some leather armor
5. Find a bucket of water (so you can build down)
Moderate
6. Smelt some ore
7. Find redstone
8. Improve your weapons and armor
9. Make a bow and collect arrows
10. Make a mob farm
11. Find diamonds!
Hard
12. Mine obsidion
13. Go to the nether
14. Kill a blaze and make a brewing stand
15. Collect netherwart and other ingredients for potions
16. Brew a potion
Insane
17. Create and kill a wither boss
18. Build and use a beacon
18. Go to the end
19. Kill the ender dragon
How to install:
Download the map
Extract file
Go to %appdata%
Go to .minecraft/saves folder
Drag map folder into it
Start minecraft
Enjoy and play
Changelogs:
v1.4
Fixed biomes, so flowers spawn from using bone meal on grass
Fixed spawn rate of spawners
Added settings room to change:
Starting time (day/night)
KeepInventory (on/off)
Constant night (on/off)
Starting 'help' chest (on/off)
Deaths scoreboard (on/off)
Difficulty (easy/normal/hard)
Download links for Spawn Block Map:
Normal version: Download from Server 1 – Download from Server 2 – Download from Server 3

Hardcore version: Download from Server 1 – Download from Server 2 – Download from Server 3
Tags: