True Labyrinth Map
11,769
views ❘
September 11, 2016
About True Labyrinth Map
True Labyrinth is a map by Tobi29 and minihilly; designed to be a "true" labyrinth-style dungeon experience, TL has its own unique labyrinth-generator system, designed by Tobi29, and along with the build-work from minihilly, the design both mechanically and aesthetically for this map is truly unique. TL is a smart map that will set the new standard for future Minecraft dungeon maps. True Labyrinth can be played in both singleplayer and multiplayer! (just make sure command-blocks are enabled!)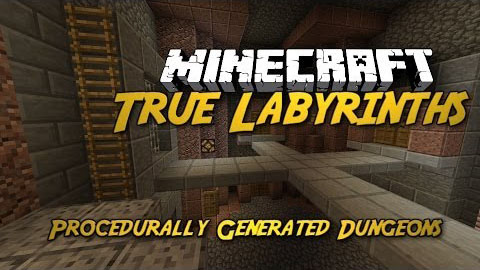 Features
A dungeon map that's actually hard – not just mob-grinds, and no generic story rubbish!
Singleplayer and Multiplayer support (be sure to enable command-blocks!)
TRUE uniquely-generated labyrinths by randomising rooms, and placing doors to create a maze!
Randomised "Loot Rooms", "Secret Rooms", and unique items every level!
3 FULL playable levels, all using the base-generator in different ways
3 unique bosses to accompany the 3 levels (more to come in future updates!)
4 difficulties: Easy, Normal, Hard, and the infamous "BRUTAL" mode
An extremely challenging dungeon game – inspired heavily from BoI
True Labyrinth Map Screenshots:
Level 1 | The Dungeons
A tricky start to foreshadow a challenging experience – The Dungeons may have a generic stone design, but you're as weak as the enemies, and you must pull off some parkour to beat it.
Level 2 | Industrial Flood
A level drowned in enemies…oh, and it's flooded. This level will lead you gasping for air as you fight hordes of zombies, spiders, and creepers; let me tell ya, though, the boss fight is something else!
Level 3 | The Pyramids
A truly unforgiving, relentless, evil level: skeletons shielded with full chainmail armour will charge, snipe, and shove you into traps of lava!
Playthrough:

Requirement: Minecraft Snapshot 14w11b
How to install:
Download link for True Labyrinth Map:
Tags: