Warfield 3 Mod
Author: Stuuupiiid ❘ March 23, 2013 ❘ 54,114 views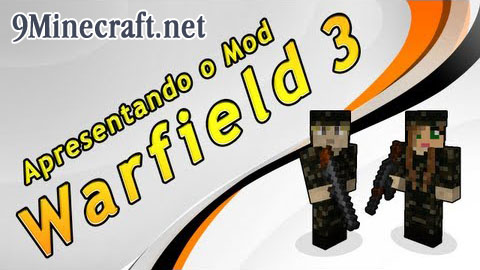 Features:
Lot of ways to customize your gun!
You can scope with every weapon!
You can craft back the weapons so you get back the scopes, silencers etc.!
Different sounds (sounds change by using silencers)
Fireburst modes: Single Shot, 3 Burst and Auto Mode! (use key 'V')
Quick knifing! (watch video) (use key 'F')
Recoil (Reduce recoil by using Foregrip or Bipod)!
Multiplayer!
Hitmarker!
And more detailes!
Recipes:
Spoiler
To craft a weapon take the weapon part in the middle and put 1 ingot anywhere else (just try little bit)
You can also craft weapons back so you get back the extras (scopes, silencer …). By doing this you wont lose anything!
Small list:
US
WFM16A3 (Assault)
WFL96 (Sniper)
WFM249 (MG)
WFMK11 Mod 0 (Sniper)
RU
WFAK-74M (Assault)
WFSV98 (Sniper)
WFRPK-74M (MG)
WFSVD (Sniper)
Weapon Stats:
Installation:
Client:
Download the recommented universal build (or the latest if the recommented doesn't work for you, but NOT the source!) of Minecraft Forge
Open that archive with an archiver. I recommend 7zip.
Open your minecraft.jar in your .minecraft/bin directory with your chosen archiver (7zip)
Copy all files from the downloaded forge package into the minecraft.jar
Delete your META_INF in your minecraft.jar, if you're running Windows or Linux. If you're on a Mac, then go into the META_INF and delete only the files which begin with MOJANG! Leave the rest untouched.
Close all open archiver windows and start your Minecraft client once. Forge needs to download some libraries and will set up the environment the first time.
After it has been set up by Forge, close your Minecraft. It is now ready for Forge / FML mods (ModLoader mods, too)!
Download the latest version of mods you want to have and copy the hole .zip files into your .minecraft/mods directory
Server
Download the recommented universal build (or the latest if the recommented doesn't work for you, but NOT the source!) of Minecraft Forge
Open that archive with an archiver. I recommend 7zip.
Open your minecraft_server.jar with your chosen archiver (7zip)
Copy all files from the downloaded forge package into the minecraft_server.jar
Don't delete your META_INF! Keep it untouched.
Close all open archiver windows and start your Minecraft server once. Forge needs to download some libraries and will set up the environment the first time.
After it has been set up by Forge, stop your server. It is now ready for Forge / FML mods!
Download the latest version of mods you want to have and copy the hole .zip files into your .minecraft/mods directory

For Minecraft 1.5.1
https://dl2.9minecraft.net/index.php?act=dl&id=1364064641
For Minecraft 1.4.7
https://dl.9minecraft.net/index.php?act=dl&id=1357034547
Tags: