Zombie Apocalypse Addon (1.20, 1.19) – MCPE/Bedrock Mod
3,760
views ❘
September 19, 2023
❘
Zombie Apocalypse Addon (1.20, 1.19) transports the map's essence into your worlds, prepare to battle against endless swarms of zombies, as you acquire weapons, utilities, abilities, or boosters at the Shop, or construct a fortress with your companions. Stay on the edge and survive in a world where Hordes can appear at any time. And to top it off, you can collect ammo by CHAINSAWING zombies! The addon also offers a custom UI, 3D Weapons, bespoke zombies, blocks, and much more!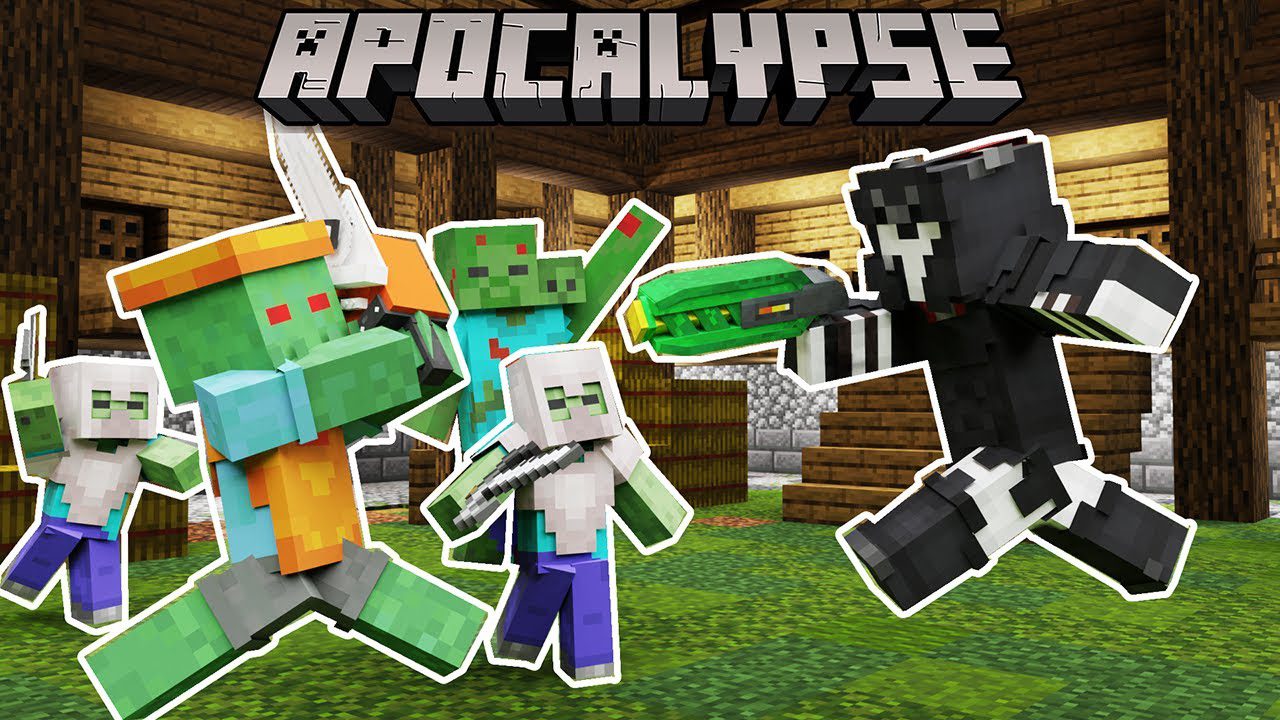 Features:
Overview
This addon brings the Map's experience into your world.
If you are looking for the map, it is here: Zombie Apocalypse Map
Slay zombies for Experience Levels, and use them to buy weapons, utility, or boosters to aid you in your survival in this apocalypse! Oh, and you can CHAINSAW zombies for ammo.
This addon also has a custom music system. The music changes according to the time of day and the number of zombies. The World Host can always turn on / off the music.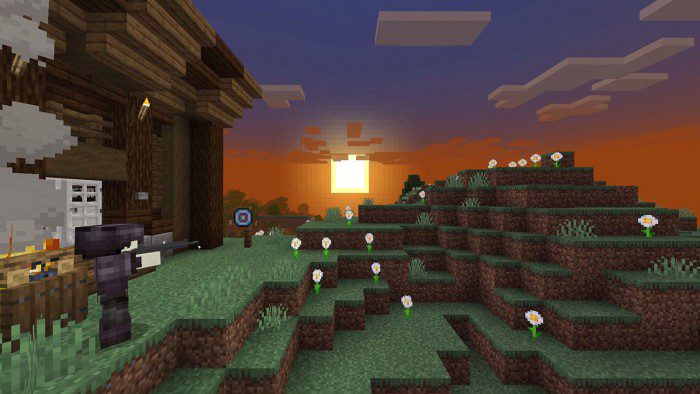 Host System
This addon features a Host system. The very first player to join a world with this addon active will be the World Host.
All players will receive the following items when they first join the world:
Full Iron Armour
Chainsaw
P250 Pistol
Personal Menu
The World Host will receive the following additional items:
Host Menu
Fix item
Safehouse
Chück Mover
Safehouse
There can only be 1 safehouse in any world. Choose your location wisely! The safe house is a chest with supplies, a crafting table, and a furnace.
The safehouse also contains Chück, the friendly shopkeeper. He will load the chunks around him and he cannot be removed.
Right-click/tap the Highscore Block or the Stats Block to view the World Highscores or World Stats respectively
New Safehouse – Stronghold
It has many starter items, lava generators for fuel (using dripstone), and even a small potato farm on the roof! Oh, and it's no longer flammable.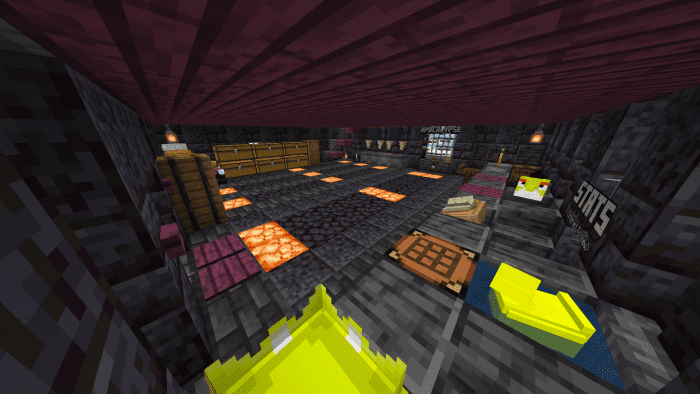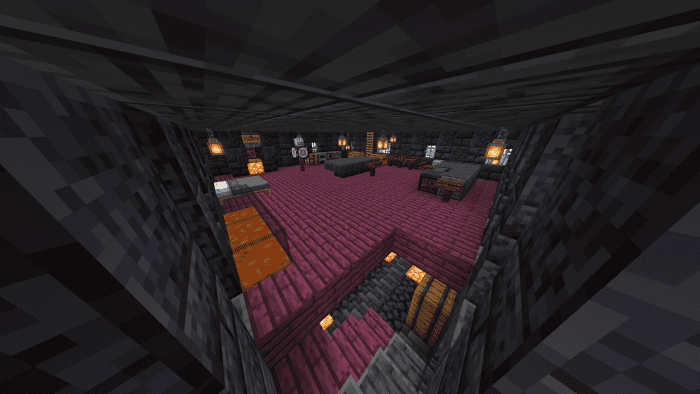 Old Safehouse (Now called "Shed")
The old safehouse isn't deleted! The world host can still craft it using Spruce Planks and an Iron Block. You can view all the new custom recipes in the recipe book.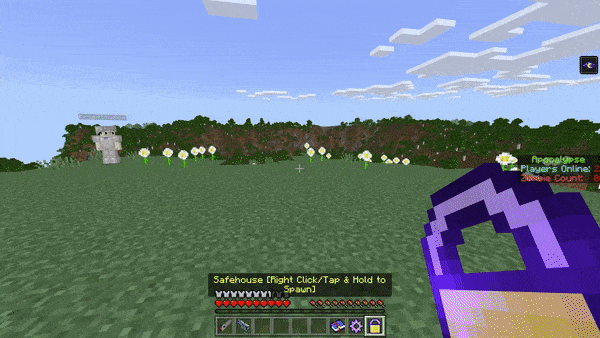 Shop
Use Experience Levels to buy items! Some special items such as Boosters may cost different items such as Diamonds or Lapis Lazuli Blocks.
Just simply right-click/tap & hold Chück to open up the shop menu!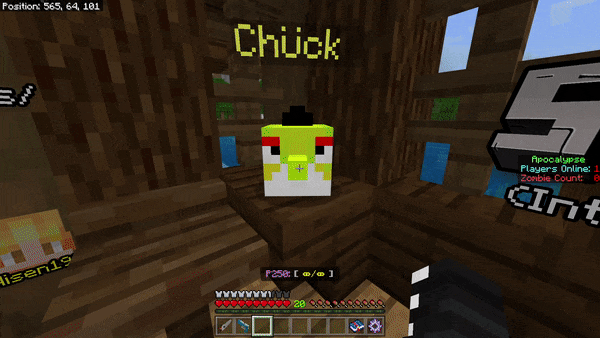 Host Menu
Here you can change some settings like Difficulty, Music, Hordes, Display, etc.
You can access this menu anywhere. If it breaks try using the fix item.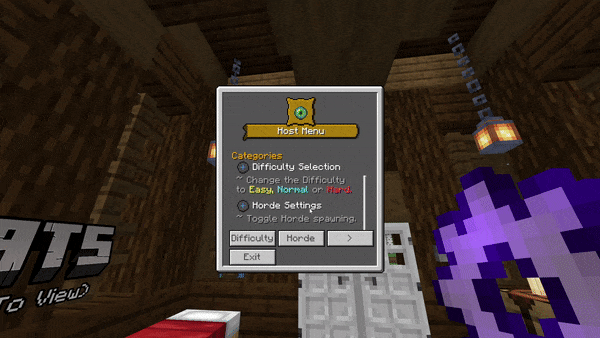 Personal Menu
You can access this anywhere. Here you can see the Credits, look at your stats, as well as learn about every zombie type!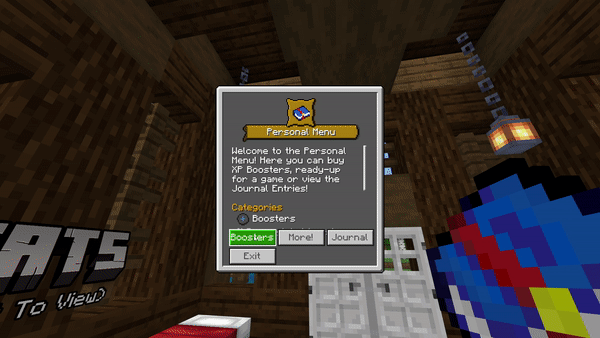 Chainsaw
The highlight of this addon! Chainsaw zombies to instantly kill them! Chainsawing drops ammo, just like in DOOM.
Note that not all zombies can be chainsawed! But you can save up for a Chainsaw upgrade to be able to chainsaw Brutes too!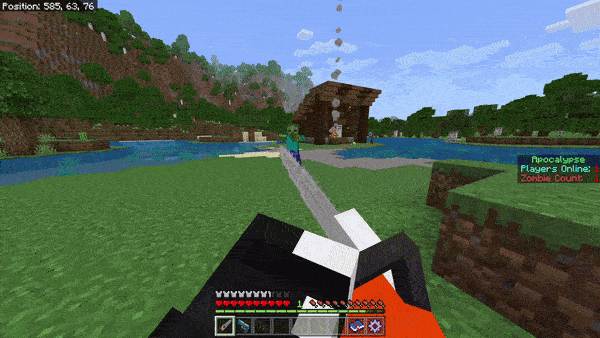 Hordes
The glitch effect is not included.
Hordes have a random chance of spawning in your world. You can turn them on/off in the Host Settings menu.
Hordes will ONLY spawn on players who have NO BLOCKS above their heads. So as long as you have a block somewhere above your head, you are safe from hordes.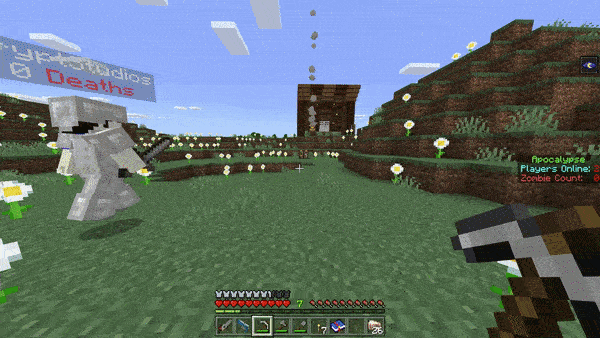 Hordes last 3 minutes or when all horde zombies are killed. Horde zombies have sparkle particles around them.
Each zombie drops a certain amount of points when killed, the more points you get by the end of the horde, the more XP you earn from it.
New: Now normal zombies will give 1 point instead of 0, making it easier to get more points and gain more levels in Hordes.
Trading
You can combine an egg and a yellow dye to get the Dück Spawn Egg.
A duck is already in the Safehouse so you might not need to craft the spawn egg.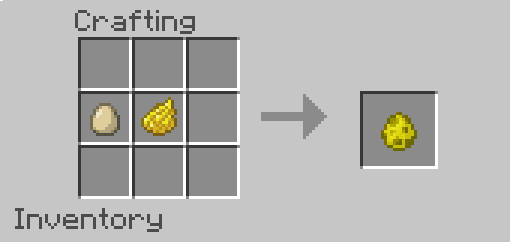 Now you can trade rotten flesh for food! As well as copper ingots for iron ingots. This would make your Minecraft Zombie Apocalypse adventures a little easier.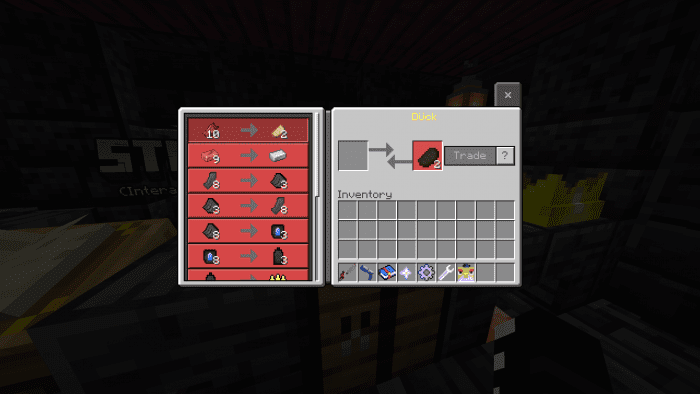 Zombie Totem
You can craft a Zombie Totem and summon hordes at your own will!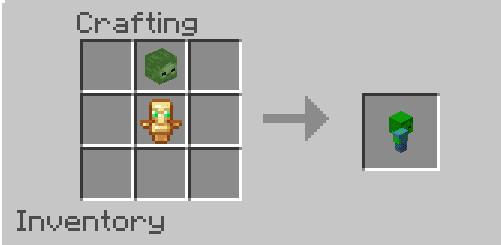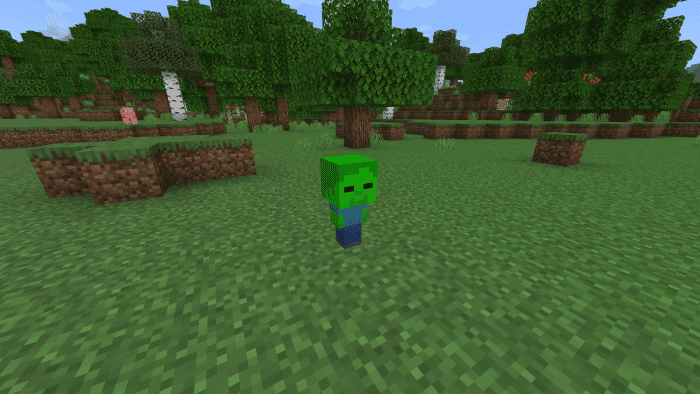 Blocks
Wanna build a base or defend your stronghold, or wanna make a zombie map with this addon
Now there are more blocks for you to play around with!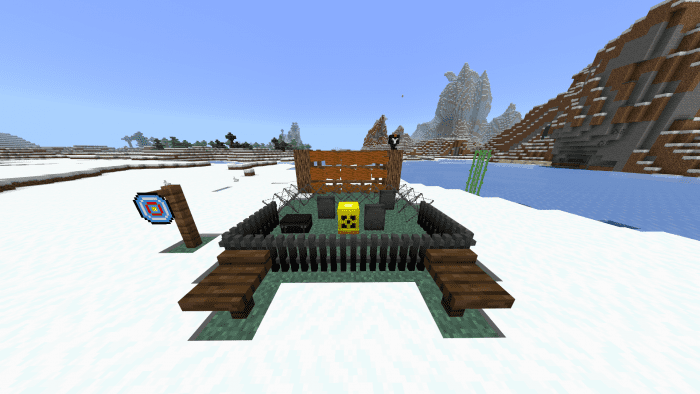 Most of these blocks are craftable in Survival. Just refer to the recipe book in-game to see their recipes!
Tactical Shovel
You need 2 sticks and an iron block to craft the Tactical Shovel. It's important to have because you can use it to change the Metal Fence into a corner fence, but most importantly it is to mine all the custom blocks in this addon!
This is due to limitations in Minecraft Bedrock Edition making normal tools not work on custom blocks.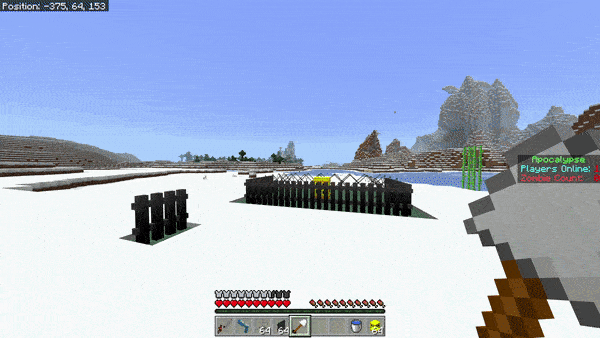 Toxic Barrel
Breaking, shooting, or right-clicking/tapping the Toxic Barrel will cause it to ignite in a big fiery explosion!
It also poisons nearby mobs for a bit.
There's a non-griefing version of this block that doesn't break any blocks
Note that Mob Griefing gamerule has to be ON for the barrel to be able to explode when shot.
Please be careful with this block, as the particles could cause lag!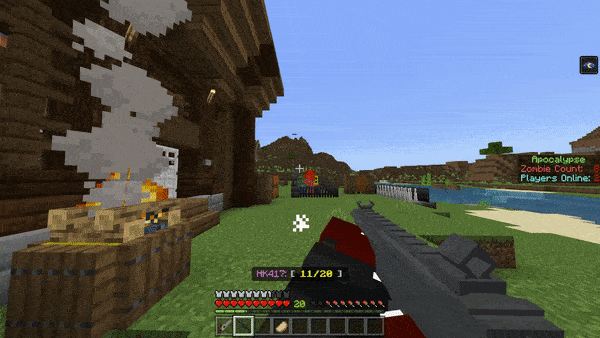 New Zombie Types
Besides those zombies shown above in the Personal Menu section, there are 3 new zombie types in v1.1 – The Miner, Knight Jockey, and Cowboy Zombies.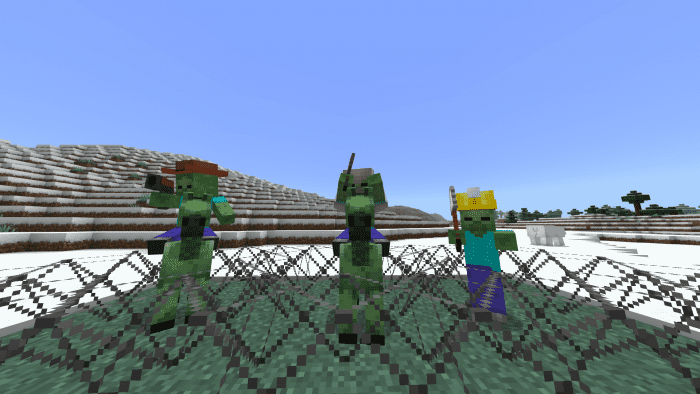 Johnny
Want a Boss Fight? Johnny can summon zombies and even CHAINSAW YOU. the tables have turned.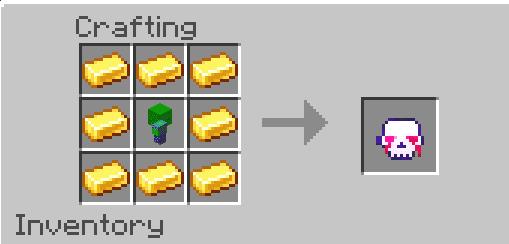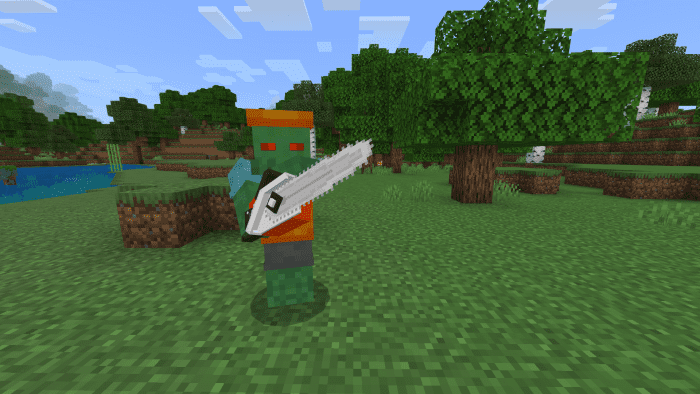 Bobby
Be careful! Whenever Johnny has fallen, it has a chance of spawning his MUCH stronger brother, Bobby!
Bobby does not have a 1 hit-kill ability, but he does wield an Oblivion, dealing 32 damage per shot!
We recommend having Protection 4 Scarlet Armour fight bobby!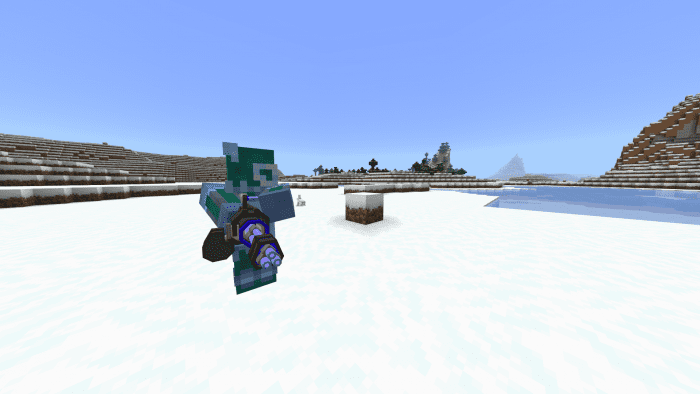 There's still plenty to experience in this addon! Try it yourself!
Installation Note:
This addon requires a Block Geo Fixer for custom blocks to work properly.
You must not be on beta, please do not pirate Minecraft. Use the latest non-beta version.
Make sure you activated the Experimental Gameplay.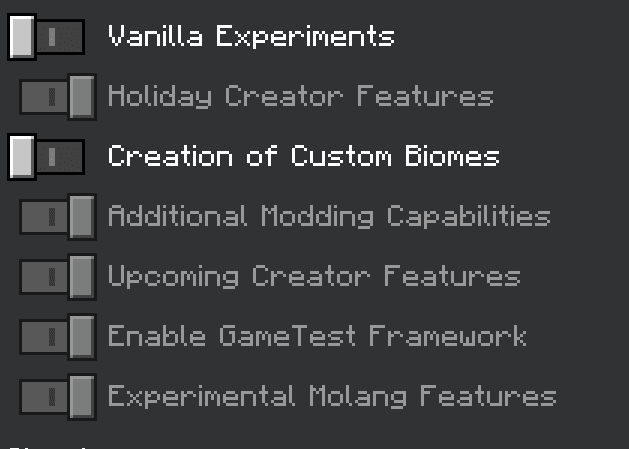 How to install:
How To Install Mod / Addon on Minecraft PE
How To Install Texture Packs on Minecraft PE
How To Install Map on Minecraft PE
Zombie Apocalypse Addon (1.20, 1.19) Download Links
For Minecraft PE/Bedrock 1.19
mcaddon: Download from server 1 – Download from server 2

Block Geo Fixer (Require)
For Minecraft PE/Bedrock 1.20
mcaddon: Download from server 1 – Download from server 2
Tags: