aPerf Mod
42,879
views ❘
May 13, 2013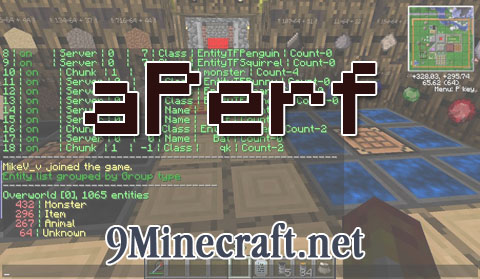 A performance mod.
Features:
SpawnLimiter – Monster and animal spawn limiting.
You can make your own rules like – has to have min 2 and max 5 blocks of air (for cave mobs) or water (for squids) above. Cannot spawn more than 10 in a 3 chunk radius area, etc etc.
ItemGrouper – Groups nearby similar floating items or experience orbs to lower the server load and networking when something goes wrong (like a quarry overflowing or someone doing extreme mining and not picking up).
Packet limiting – for those who have to play on a 3g mobile internet and still want to build advanced stuff. Disable duplicate packet sending or just send every 5th redpower pipe content update packet. Customizable filters, saved per user. Can turn on/off ingame.
Packet sniffer – Check what packets are sent to a specific player (or yourself) and on what amout (speed) to find the spam you may not need (like rp's tube item updates or extrabees unknown spam). (depends on packet limiter)
Entity and tile entity listing – Find at which location theres a high concentration of items on the ground or find some pesky machines by their java hash code or even just see how many sheeps there are on a map.
Entity removal – Remove any mobs or animals by many-many different filters.
Commands and perm nodes: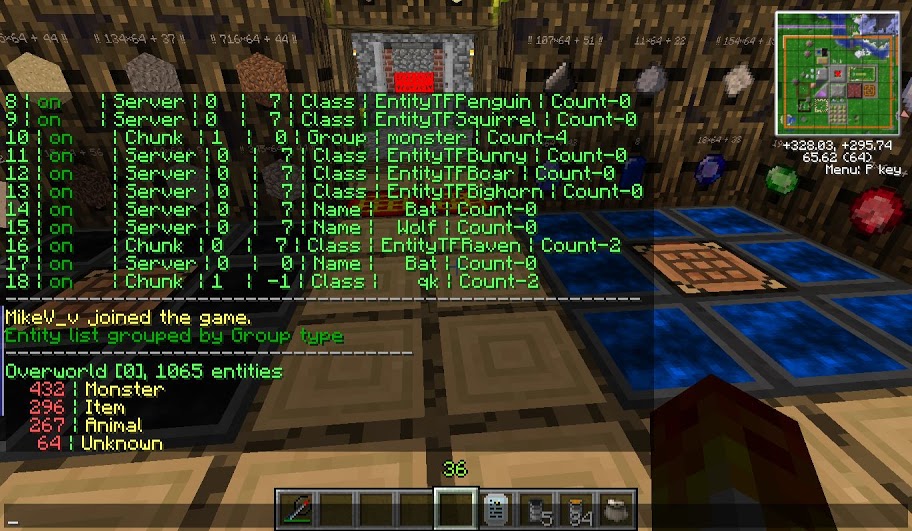 Dependencies: PermissionsEx
Installation:
Download aPerf Mod and place it in your servers mods/ folder
Download PermissionsEx, place it in servers mods/ folder
Start your server and play
Changelogs:
v1.5.1.0
Updated to Minecraft 1.5.2/1.5.1 and forge version independence

For 1.5.2/1.5.1
For Minecraft 1.4.7
Tags: