Extra Trees Mod
65,218
views ❘
January 6, 2014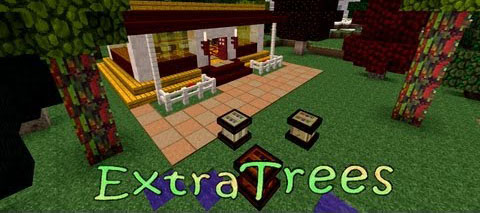 Extra Trees is a new Minecraft mod by Binnie, author of Extra Bees. It extends the Forestry tree breeding system with over 75 new tree species, along with new logs and fruits. From these logs there are 34 new wood planks to construct your houses and castles with. The woodworker allows you to combine planks into over 70 intricate patterns. You can then rotate these blocks in any of 24 possible rotations, allowing you to create any pattern you would like. There is also a lumbermill in order to obtain useful byproducts of woodcutting such as sawdust and tree bark.
Features:
75 New Tree Species, including hemlocks, yews, ashes, alders, rowans, beeches and many more.
All trees can be bred from the four vanilla trees using the tree breeding system in Forestry.
The Arborist Database will help you keep track of genomes, mutations and your progress to tree mastery.
34 wood planks in various hues, which can be used interchangably with other wood planks.
Craft stairs, gates, fences, facades and 4 types of wooden door from all of the different woods to match the planks.
Also adds custom fences, gates and doors for the other vanilla planks, forestry planks and EBXL planks.
39 new fruits and nuts, each found on a different tree. Help yourself to apricots, crabapples, pecans and brazil nuts.
Use the woodworker to craft planks from vanilla, Forestry, Extrabiomes XL and Extra Trees into patterned blocks.
72 different patterns, from various diagonal and curved lines to creeper faces and geometric shapes.
Rotate these blocks around each face, for a total of 24 orientations.
This results in a total of 7,300,800 combinations of woodworker blocks, so let your imagination go wild!
Use the panelworker to create woodworker panels that can be placed on block faces without replacing the whole block.
Get extra planks, sawdust, wood bark and other byproducts by throwing your logs through the lumbermill.
Installation:
Download and install Minecraft Forge
Download and install Forestry Mod
Download Extra Trees Mod
Drag and drop the downloaded jar file into the .minecraft/mods folder. If one does not exist you can create one.
Done
Download Links
For 1.6.2/1.6.4
http://www.mediafire.com/download/s8nxaw6c55g3aja/binnie-mods-1.8-dev1.jar
For Minecraft 1.5.2
http://www.mediafire.com/download/6sbu8sa383rasmp/binnie-mods-1.7.4.jar
Tags: