FarmCraftory Mod
Author: ComicRetrolution ❘ July 10, 2013 ❘ 69,711 views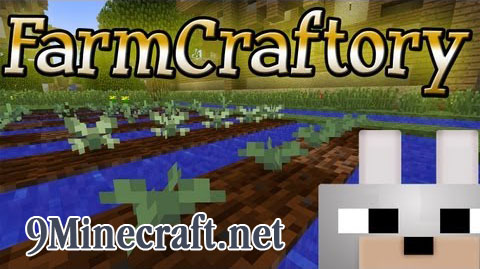 RuneCraftory is the name of the collection of mods inspired by the popular RPGs: Rune Factory & Harvest Moon. Each of these mods can be installed individually, or used together as one for a unique Minecraft experience.
FarmCraftory is a mod that adds various farming tools, crops, and a simplified cooking system to Minecraft.
Recipes:
Crops and Farming
Spoiler
FarmCraftory adds 13 new seeds and crops into Minecraft. Some crops are single-harvest and yield only one fruit or vegetable after being destroyed. Other crops are multi-harvest and yield two fruits or vegetables after being destroyed. Seeds can be found in tall grass in any biome.
Turnip – Single Harvest
Cabbage – Single Harvest
Onion – Single Harvest
Spinach – Single Harvest
Leek – Single Harvest
Cucumber – Multi Harvest
Tomato – Multi Harvest
Corn – Multi Harvest
Eggplant – Multi Harvest
Green Pepper – Multi Harvest
Yam – Multi Harvest
Strawberry – Multi Harvest
Pineapple – Multi Harvest
These seeds can only be found in tallgrass by crafting new tool called a Sickle and using it to cut down tall grass. Sickles can be made from Wood, Stone, Iron, Diamond, or Gold. Each type of sickle has the same drop rate, but higher grade sickles have more durability.
Another farming tool in your new arsenal is a magnifying glass. This item is used to inspect crops to get details about that specific crop. Details shown are:
Name of the crop
Current growth stage
Crop Yield amount
Seed Yield amount
Fertilized or unfertilized
Cooking
Spoiler
FarmCraftory now uses a simplified cooking system. No more having to remember recipes and no more having to wait to cook. How simple is it to use? Really simple. If you hover over the name of the recipe on the right, you'll get a list of ingredients on the left side.
First craft a Kitchen Blender, place it down, and right click to open up the menu.
If you only have some of the ingredients, the items you have will have their name in white while the missing items name will remain grayed out.
If you have the all of the ingredients in your inventory, the recipe name will turn white (yellow when hovering) and become clickable.
If you click the name of the recipe, the items in your inventory will be removed and you'll be given the output in return.
Empty glass recipe:
Glass of milk recipe:
Installation:
For Minecraft 1.6.1 and up
How to install for Single Player/LAN:
Download and open the new Minecraft Forge Installer.jar
Select "Install client", make sure the .minecraft directory is correct, and press OK
Press OK again after install completes
Open the official Minecraft Launcher and either select "Forge" under Profile or create a New Profile and select Forge under "Use Version"
Click Play and verify Minecraft has loaded successfully
Close Minecraft, place the FarmCraftory.zip files in the /mods/ folder, and reopen
You're done!
For Minecraft 1.5.2 and below
How to install for Single Player/LAN:
Go to your .minecraft folder and open /bin/ folder
Open minecraft.jar with WinRAR
Download and copy the Forge API files to the minecraft.jar
Place the FarmCraftory.zip in the /mods/ folder
You're done!
How to install for Multiplayer (SMP):
Go to your designated server folder
Open minecraft_server.jar with WinRAR
Download and copy the Forge API files to the minecraft_server.jar
Place the FarmCraftory.zip in the /mods/ folder
You're done!

For Minecraft 1.6.2
https://dl.9minecraft.net/index.php?act=dl&id=1373468158
For 1.6.1
https://dl.9minecraft.net/index.php?act=dl&id=1372930518
For Minecraft 1.5.2
For 1.4.7/1.4.6
https://dl2.9minecraft.net/index.php?act=dl&id=1357564578
Tags: