Flat Bedrock Layer Mod
49,319
views ❘
May 11, 2013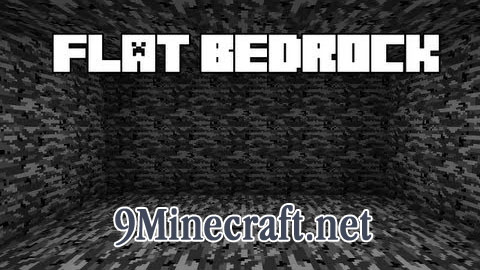 The map generator of Minecraft generate originally bedrock randomly on the bottom five layers in the upper World as well as on the bottom and upper five layers in the Nether. With this mod bedrock will only generated on the lowest respectively lowest and highest layer.
Of course it works only on new generated chunks, existing chunks won't be touched.
  –> 
Screenshot:
Installation:
Download the right version, if you don't want to use Forge don't use the version which is for Forge!
Vanilla client
Shut down minecraft
Open minecraft.jar with WinRAR, 7z or a similar app
In minecraft.jar delete the META-INF folder
Drag & drop content from Flat Bedrock Layer Mod zip-file to  minecraft.jar
Vanilla server
Shut down the minecraft server
Open minecraft-server.jar with WinRAR, 7z or a similar app
Drag & drop content from Flat Bedrock Layer Mod zip-file to minecraft-server.jar
Forge client
Shut down minecraft
Open minecraft.jar with WinRAR, 7z or a similar app
In minecraft.jar delete the META-INF folder
Be sure that you have installed Forge already
Drag & drop content from Flat Bedrock Layer Mod zip-file to  minecraft.jar
Forge server
Shut down the minecraft server
Open one of the following files with WinRAR, 7z or a similar app
If you have installed Forge into the minecraft-server.jar, and only then: minecraft-server.jar
If you start the server bei renaming Forge.zip to Forge.jar and execute Forge.jar: minecraftforge-universal-version.jar
Drag & drop content from Flat Bedrock Layer Mod zip-file to the above opened file

For Minecraft 1.5.2
Vanilla version: https://dl.9minecraft.net/index.php?act=dl&id=1368267883

Forge version: https://dl.9minecraft.net/index.php?act=dl&id=1368267848
For Minecraft 1.5.1
Vanilla version: https://dl.9minecraft.net/index.php?act=dl&id=1364666362

Forge version: https://dl.9minecraft.net/index.php?act=dl&id=1364666340
For Minecraft 1.4.7
Vanilla version: https://dl.9minecraft.net/index.php?act=dl&id=1357637027

Forge version: https://dl.9minecraft.net/index.php?act=dl&id=1357637012
Tags: