Minecraft 1.5 Official Download
Author: The Minecraft and Minecraft Realms teams ❘ March 13, 2013 ❘ 78,375 views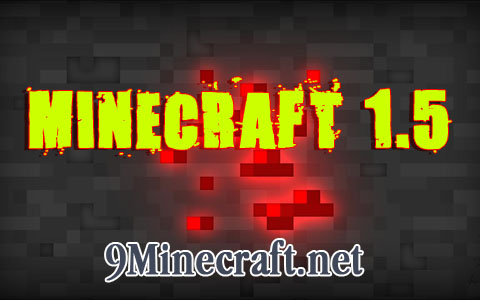 The Redstone Update is finally out! Get it via the launcher
Changelogs:
Added Redstone Comparator (used in Redstone logic)
Added Hopper (collects items and moves them to containers)
Added Dropper (similar to Dispensers, but always drops the item)
Added Activator Rail (activates TNT Minecarts)
Added Daylight Sensor
Added Trapped Chest
Added Weighed Pressure Plate
Added Block of Redstone
Added Nether Brick (item)
Added Nether Quartz and ore
Added Block of Quartz, with half blocks and chiseled variants
New command: /scoreboard
New command: /effect
Containers and mobs can have custom names
Inventory management has been changed, for example you can drag-place items over slots
Texture packs now have separate images for each block and item, and can have animations
Nether Quartz Ore now spawns in the Nether
Smooth lighting now has three settings (none, minimal, maximum)
More detailed death messages
Some hostile mobs now are harder in Hard difficulty
Many, many, bug fixes
Removed Herobrine
Watch the Minecraft 1.5 Redstone Update in song

Minecraft for Windows
Download Minecraft.exe. Place it anywhere you want, then run it.
Minecraft for Mac OS X
Download Minecraft.zip. Unpack and place Minecraft in your /Applications folder.
Minecraft for Linux / Other
Download minecraft.jar. The jar is executable and might work as-is. If you run into memory issues, try launching it with java -Xmx1024M -Xms512M -cp minecraft.jar net.minecraft.LauncherFrame, also please use Sun's JVM.
Multiplayer Server
If you're running on Windows and just want to set up a server easily, download Minecraft_Server.exe and run it.

If you want to run the server on any other OS or without GUI it's a bit more involved. First make sure you can use java from the command line. On Linux and Mac OS X this should already be set up but on Windows you might have to tinker with the PATH environment variable. Download and run minecraft_server.jar with java -Xmx1024M -Xms1024M -jar minecraft_server.jar nogui.
Tags: