Minecraft 1.7.2 Official Download
79,221
views ❘
October 25, 2013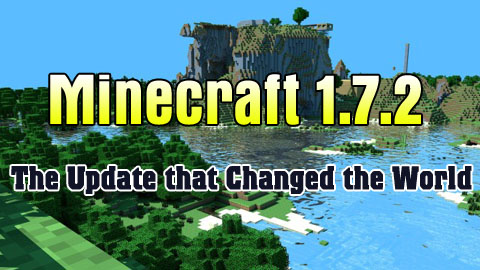 Minecraft 1.7.2 has been published in the launcher! Get it now!
The Update that Changed the World. This update includes 1.7 and 1.7.1
What's new?
Added lots of new biomes!
Added "AMPLIFIED" world type
Added Acacia and Old Oak wood types
Added Stained Glass
Added Packed Ice, Red Sand, Podzol
Added a bunch of new flowers, including double-height flowers and grass
Added more types of fish
Fishing rods can be enchanted
Achievements are now world specific
Gaining achievements now announced to other players
Added a few new achievements
Servers can now have a "server-icon.png" that is displayed in the multiplayer list
You can see who's online before joining, just hover the player count number in the server list
New /summon command
Added Command Block minecart
Links in chat are now clickable
Click on somebody's name to send a private message
Added a bunch of new graphics options
Added some shader tests (click on the "Super Secret Settings" a couple of times…)
Biome placement has been improved, and oceans are smaller
Portals to the Nether can now have different shapes
Fishing is now more interesting
Maps in item frames are now extra big
The achievement screen is zoomable
Preparations have been made to offer name change in the future
You can now have multiple resource packs loaded at the same time
Resource packs can now hold sound effects
Servers can recommend resource packs
Network code has been rewritten
Sound manager has been rewritten
Many many bug fixes…
Removed the Rose flower
Removed Herobrine
Download Links:
Minecraft for Windows
Download Minecraft.exe. Place it anywhere you want, then run it.
Minecraft for Mac OS X
Download Minecraft.dmg. Unpack and place Minecraft in your /Applications folder.
Minecraft for Linux / Other
Download minecraft.jar. The jar is executable and might work as-is. If you run into memory issues, try launching it with java -Xmx1024M -Xms512M -cp minecraft.jar net.minecraft.LauncherFrame, also please use Sun's JVM.
Multiplayer Server
If you're running on Windows and just want to set up a server easily, download Minecraft_Server.exe and run it.

If you want to run the server on any other OS or without GUI it's a bit more involved. First make sure you can use java from the command line. On Linux and Mac OS X this should already be set up but on Windows you might have to tinker with the PATH environment variable. Download and run minecraft_server.jar with java -Xmx1024M -Xms1024M -jar minecraft_server.jar nogui.
Tags: