Minecraft Snapshot 12w39b Download
3,902
views ❘
September 30, 2012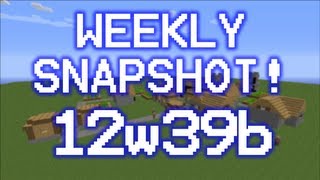 Changes discovered so far:
Fixes:
Block placement issues with lighting.
Performance seems to be better.
Pumpkin emitting stronger light from the wrong face fixed.
* The client now comes with both the client-side and the server-side JAR files. The file called "minecraft.jar" should be in your ".minecraft/bin" folder as usual, and the "minecraft_server.jar" file should be in a folder called ".minecraft/server".
Installation:
Close Minecraft.
Go to Minecraft.jar. You can find this in Windows at %appdata%/.minecraft/bin.
Copy your Minecraft.jar file and back it up somewhere else.
Move the newly downloaded Minecraft.jar into the /.minecraft/bin folder, replacing the old version.
Open up Minecraft and have fun!
I would recommend backing up your old Minecraft.jar somewhere so that you can keep all of your current mods. You can do this by just copying Minecraft.jar and pasting it into another folder.

Client
Server
Tags: