Minecraft Snapshot 13w19a
Author: The Minecraft and Minecraft Realms teams ❘ May 11, 2013 ❘ 38,889 views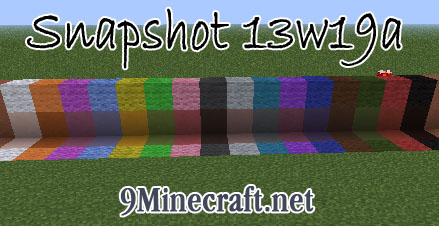 Update: 13w19a was released to fix some bugs
Changelogs:
Added new stained hardened clay.
Enabled access to the donkey & mule inventories by sneaking and interacting.
New textures for Charcoal, Coal Block, and Lapis Lazuli.
Made mobs spawn as groups again.
Minecarts with Furnace consume coal in creative mode
After the last use of a bow you get a glitch bow that when dropped and picked up again duplicates
Coal blocks do not burn away
Blurred menu background textures

To get the snapshot, use the new launcher available in the link below. To return to 1.5.2, simply start the old launcher and play as normal.
Windows: Server 1 Download – Server 2 Download

MAC/OSX: Server 1 Download – Server 2 Download

Linux: Server 1 Download – Server 2 Download
Server files:
Cross-platform jar: http://s3.amazonaws.com/Minecraft.Download/versions/13w19a/minecraft_server.13w19a.jar

Windows EXE: http://s3.amazonaws.com/Minecraft.Download/versions/13w19a/minecraft_server.13w19a.exe
Tags: