Minecraft Snapshot 13w24a
Author: The Minecraft and Minecraft Realms teams ❘ June 14, 2013 ❘ 9,559 views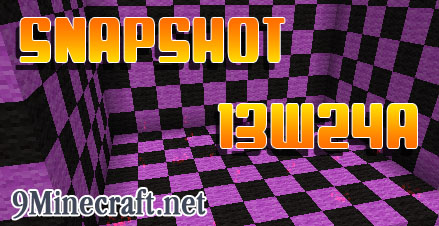 This is a huge step forward for the future plugin API and will replace texture packs. Unfortunately, texture packs will no longer be supported but you can use this fancy tool to automatically convert them!
Changelogs:
Removed Texture Pack support, added Resource Packs
Added new gamerule for day-night cycle
Things and stuff
Mobs spawn and then quickly despawn in peaceful. Looks like the "ender-porting-out-of-water" effect.
You can't get "The End?" achievement
Persistence required tag freezes mobs
Squids taking damage while in water
Hard to spawn Squids
Scoreboard "health" objective set to display "belowname" disconnecting player on multiplayer with end of stream
Lava texture animation moves too fast / Animated textures ignoring text files

To get the snapshot, use the new launcher available in the link below. To return to 1.5.2, simply start the old launcher and play as normal.
Windows: Server 1 Download – Server 2 Download

MAC/OSX: Server 1 Download – Server 2 Download

Linux: Server 1 Download – Server 2 Download
Server files:
Cross-platform jar: https://s3.amazonaws.com/Minecraft.Download/versions/13w24a/minecraft_server.13w24a.jar

Windows EXE: https://s3.amazonaws.com/Minecraft.Download/versions/13w24a/minecraft_server.13w24a.exe
Tags: