MW3 Weapons Pack for Flan's Mod
Author: legomarsm ❘ September 25, 2013 ❘ 68,259 views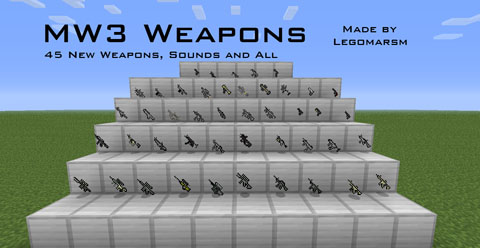 This pack originally launched in April 2012, contains every weapon from Call of Duty: Modern Warfare 3! You can craft every weapon, suppressors and red dot sights for each of them, or if that doesn't suit your needs take a ride in an AC-130 and drop a MOAB on an unsuspecting helpless npc village!
Recipes:
MW3 Weapon Box
MOAB (Place in a planes Bomb area)
Crafting a Red Dot Sight
Attaching the Red Dot sight to a weapon
Crafting a Suppressor
Attaching the Suppressor to a Weapon
How to install MW3 Weapons Pack for Minecraft:

To install a custom content pack, Download the file below.
You should have downloaded a zip file with a folder and probably a readme inside.
If the /.minecraft/Flan/ directory does not exist, create it. It should automatically be created when you run Minecraft with Flan's mod installed.
Copy the folder into the /.minecraft/Flan/ directory.
Run Minecraft, and hopefully everything will work out nicely.

For 1.6.2/1.6.4
http://www.mediafire.com/download/86g3hk32clf9v6e/MW3_Weapons_Pack_by_FruitSaladHD_v1.6.zip
For Minecraft 1.5.2
http://www.mediafire.com/download/86g3hk32clf9v6e/MW3+Weapons+Pack+by+FruitSaladHD+v1.6.zip
Tags: