Nivenska Nights Saga Map
13,514
views ❘
September 8, 2016
Nivenska Nights Saga Map Present
Nivenska Nights Saga Map – A world overrun by evil and only the true Hero can save it, In this constantly evolving/updating open world adventure map. Explore the land and help the citizens whilst you journey on the quest to rid the world once and for all of its true evils.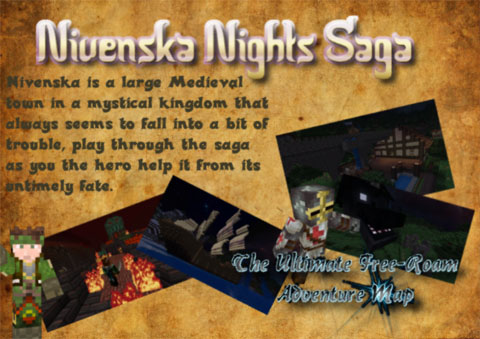 The Stories:
Main Story 1 (Save Nivenska): The town has just requested the presence of the hero(es) as their protector Aethaennyn has passed away and the undead begin to rise once again. The hero(es) has to search for the Beacon of Amrath at the Alter of Afterlife and stop the dead from walking the Earth.
Main Story 2 (Ritualistic End): The town has been plagued before by the Wither King. The reaper once defeated him with magic but some of his remains were scattered and he was not truly defeated. It is up to the Hero(es) to solve the riddle of the Wither Skull and defeat the Wither King once and for all.
Main Story 3 (Dragon Dawn): – First travel to the depths of hell to discover an ancient temple where evil worshiped the rulers of the sky. Then your journey takes you to Dragon Isle where you have to slay the very beasts only heard of in old tales. *Must Complete Sacred Key To Start*
Main Story 4 (Boria Dimelia): – Unearth more into the dark story of Nivenska once the beacon of Amrath has been lit and plunge into a world of darkness
Main Story 5 (Darkest Depths): Coming Soon In Version 5.0
Side Quests: There are numerous side quests that will be added as the main story line develops, some simple collection quests, other not so simple unlocks and extended quests. Below is the current list of side quests.
'[Book/Quest Name] – Quest Info' Note some side quests are now command block activated throughout gameplay
[Ashes To Riches] – Collect all 260 Diamonds hidden across the town/outskirts
[Reaper's Tale] – Find the 3 keys to access the vault and unlock special weaponry/armor
[Captains Log] – Collect all 12 music discs hidden across the town/outskirts
*[Sacred Key] – Locate 4 dragon eggs, take them to the hidden shrine and unlock special items
[Green Gold] – Collect all 128 Emeralds hidden across the town/outskirts
[Heavens Glow] – Locate Heavens Glow Sword
[Ancient Book] – Collect 64 Nether Stars hidden across Nivenska town/outskirts and Reivagnir (Nether)
[Tax Collection] – Collect and Pay in 600 Gold Pieces from the citizens of Nivenska and Trelori Isle's
[Farm Hand] – Help farmer Duncan vanquish the wild wolf population
[Hostages] – Free captives from the powerful goblins
[Aerothorn] – Locate the Elven Kings powerful bow Aerothorn
*[Restricted Access] – Either pay the corrupt librarian 100 Gold Pieces or defeat the ghost in the burned down house to gain the kings note
*[Divine Gift] Offer a sacrifice to Myerdra to recieve his gifts
Info:
This adventure map was designed for multiplayer mode but can be played single player
Exciting storyline (10 Hours+ Gameplay)
Spectacular scenery and buildings
Vast landscape, endless exploration
Ultimate free-roam experience
Constantly evolving / being updated
Customized in-game items for added fun
Both overworld and nether to explore
For Minecraft 1.7.2+
Custom resource pack
Recommended 2 to 4 Players
Recommended NORMAL mode for best experience
Recommended Mods: Rei's Minimap
Nivenska Nights Saga Map Screenshots:
Resource Pack: Include download file
How to install:
Download links for Nivenska Nights Saga Map:
http://www.mediafire.com/download/pclpezjlb5eu1kj/NivenskaNights4.8.zip

Walkthrough: http://www.mediafire.com/view/z1cvc8c50ocay9h/Nivenska_Nights_Walkthrough.pdf

Tags: