Planetary Confinement – The Dunes Map
Map types: Adventure, Survival
Author: samasaurus6 ❘ September 18, 2016 ❘ 23,241 views
About Planetary Confinement
Planetary Confinement is a map made in 1.8.3 Vanilla Minecraft! It is inspired by Crash Landing, but is different in a lot of aspects, so you won't just be playing it again. The aim of this map was to create a feeling of excitement and awe in the player as they play this vanilla map. The map uses a lot of command blocks to achieve such awesome effects.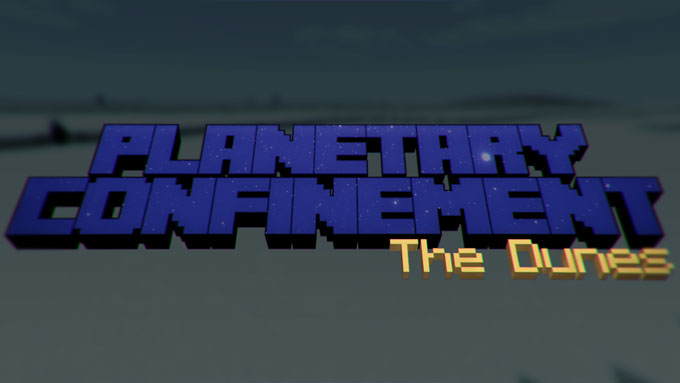 Features:
2,000 x 2,000 area map with custom terrain ready to be explored. Loads of secrets to find!
Unique Hydration and Temperature system which depends on many things such as exposure to sunlight.
Random Events system!
Grappling Hook!
Tougher mobs with new mechanics, such as spiders trapping players in webs!
Over 23 different quests!
Over 40 custom crafting recipes with an online and in-game crafting guide! (See Crafting section)
Turrets, Sieves, Deconstructors and loads more functioning blocks!
Redstone Rifle! (Model created by WeeHeeHee. Downloads in credits).
Loads of custom models made by me!
10 Hidden Achievements
2 Awesome Boss Battles
Map Trailer:
Crafting Recipes:
This map contains completely custom crafting recipes, used within the new "Crafting Module" inside the ship. The inventory crafting GUI can still be used, but all recipes which require a crafting table are no longer used. Due to the nature of custom crafting, recipes MUST be crafted one-by-one. You must also craft carefully, as empty slots are not detected by the crafting module, so if there is a recipe detected with an extra item somewhere in an unused slot, it will be lost!
This is the online guide to Crafting inside the "Planetary Confinement – The Dunes" map by samasaurus6. Before you do any crafting, remember that the map uses command blocks to simulate crafting, so there are a few things to be aware of. 1 – The normal crafting table does not work. 2 – You may only place 1 item in each slot (otherwise it won't work) 3 – If you place another item in an empty slot, but all the other slots have an item for a recipe in, that slot will be overwritten, essentially wasting that item, so please be careful to make sure you have the right recipe. 4 – 2×2 inventory crafting still works as normal. (Colours of arrows correspond to type of item)
Note: This map contains LOTS of command blocks, so if you're getting tick/block lag using the standard versions, try the LowCore Versions! (LC) You can also try updating to Java 8 (64 Bit) and allocating more RAM on the launcher by changing the JVM Arguments. The standard versions of the map are for those with decent hardware who want the best experience with all the aesthetics. The LowCore (LC) versions contain almost half as many command blocks and are aimed at those who play on their mothers' laptops and aren't bothered about aesthetics.
There are 4 versions of the map. EASY, HARD, EASY LC and HARD LC. LC is the LowCore version. HARD is in hardcore mode. EASY is infinite lives. Choose the version that suits you.
How to install:
Download the map.
Extract file.
Go to %appdata%.
Go to .minecraft/saves folder.
If the "saves" folder does not exist you can create one.
Drag map folder into it.
Start minecraft.
Enjoy and play.
Download links for Planetary Confinement – The Dunes Map:
Singleplayer [Minecraft 1.8 only]:
Tags: