Seasonal Calendar Data Pack Map 1.17.1, 1.15.2 for Minecraft
Author: TheWii ❘ August 19, 2021 ❘ 9,632 views
Seasonal Calendar Data Pack 1.17.1, 1.15.2 introduces a new feature that adds a sense of time to the world of Minecraft Vanilla. The pack introduces a unique clock system that shows the date, time, season and even the upcoming weather in the next few hours. Moreover, there are special effects and buffs for each type of weather so watch your step when going out. Custom settings are available with commands, varying from changing dates, display method, day announcement and many more. Download the pack from the link below and enjoy the game.

How to Use:
Type /function calendar:settings or /trigger SeasonalCalendar to open the datapack setting
Screenshots: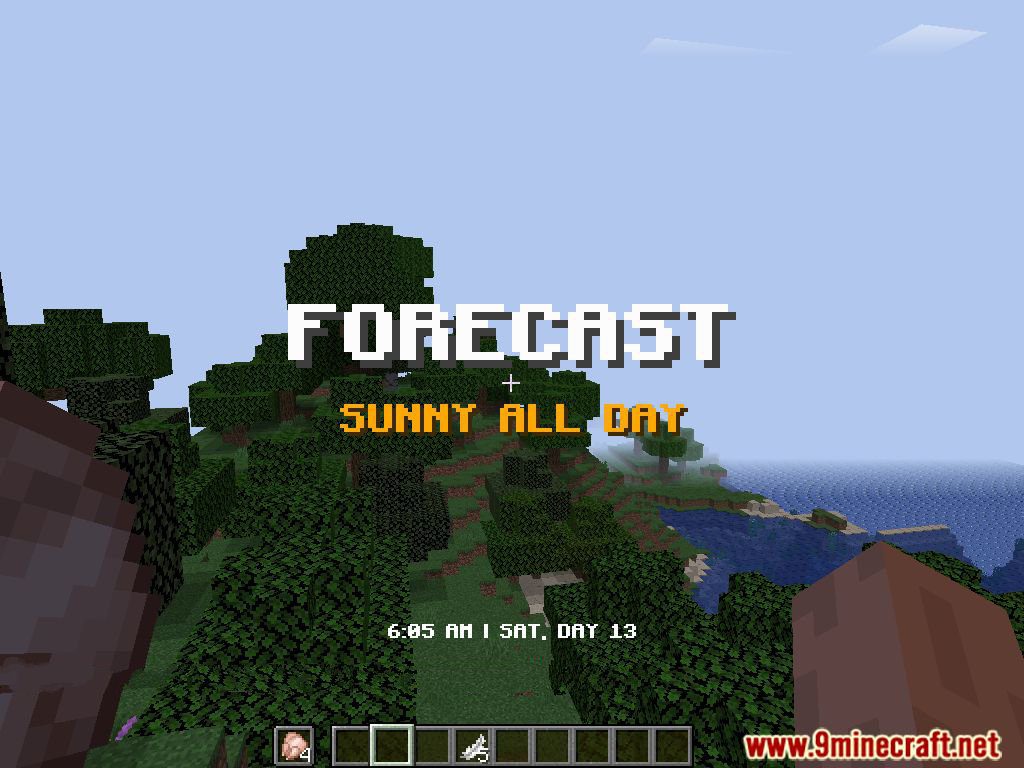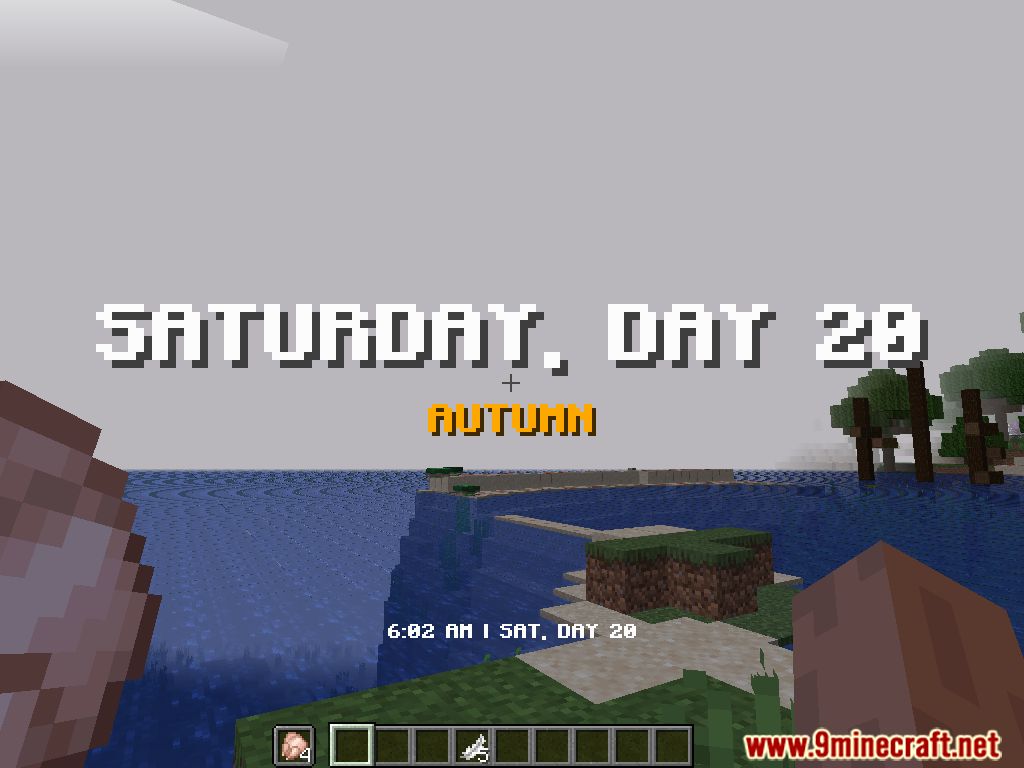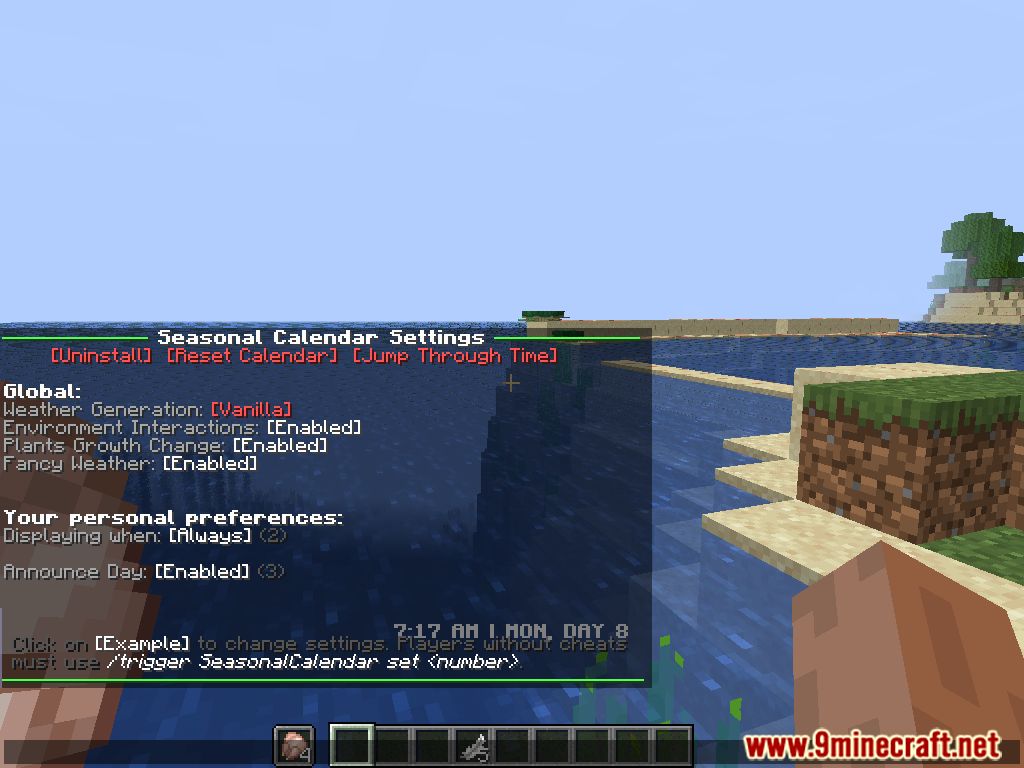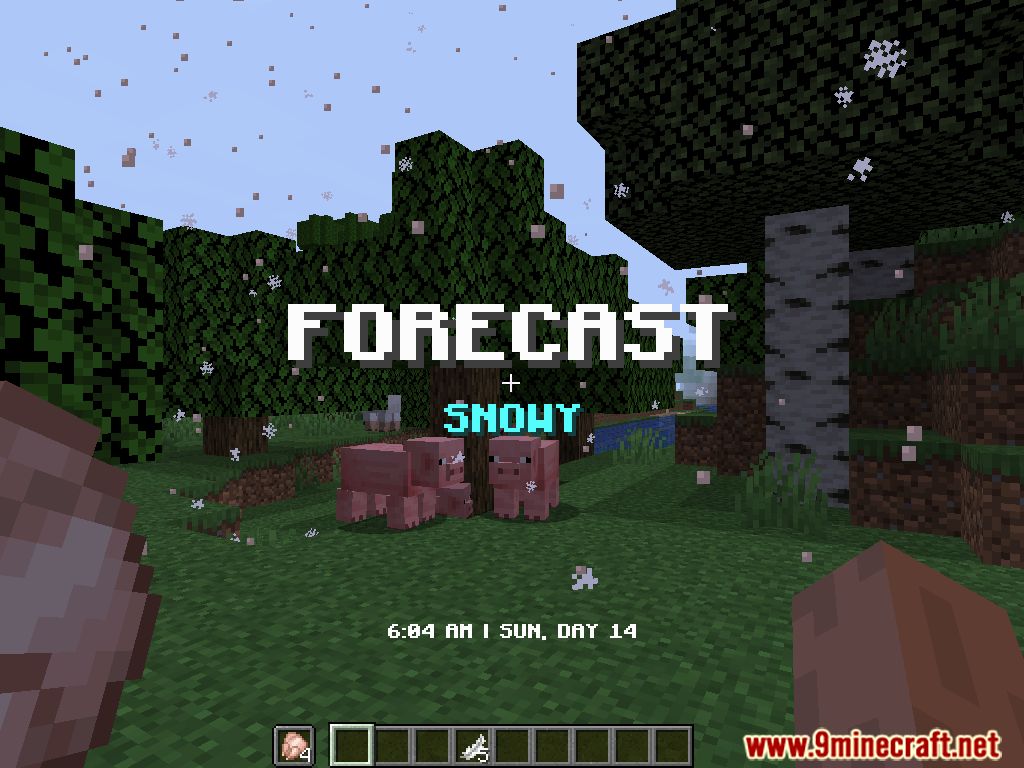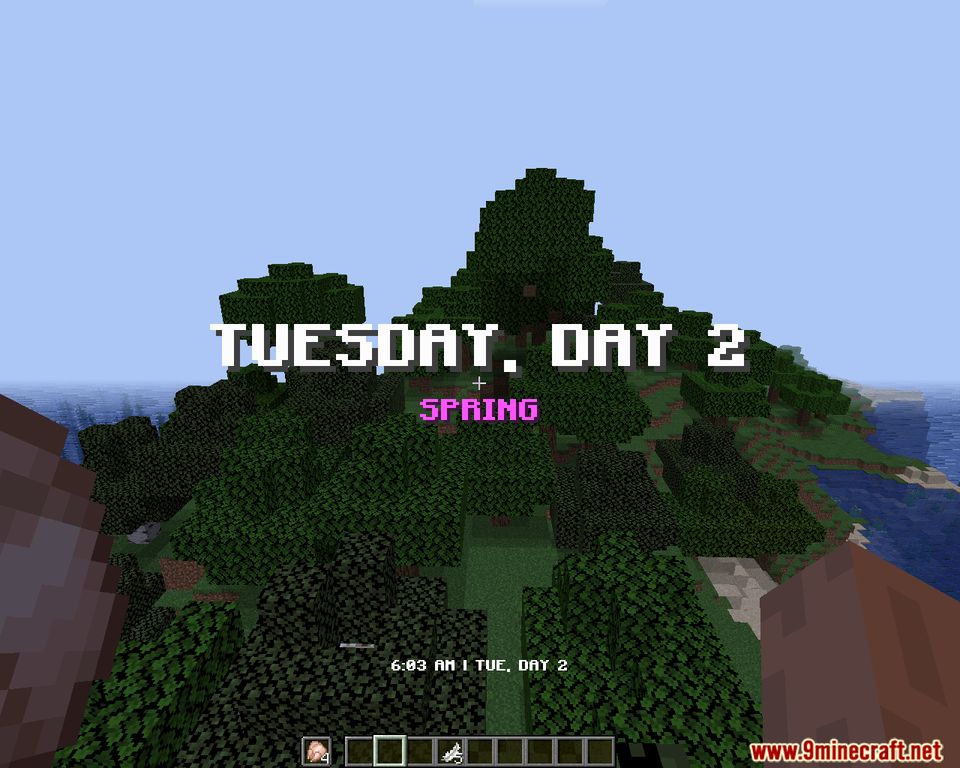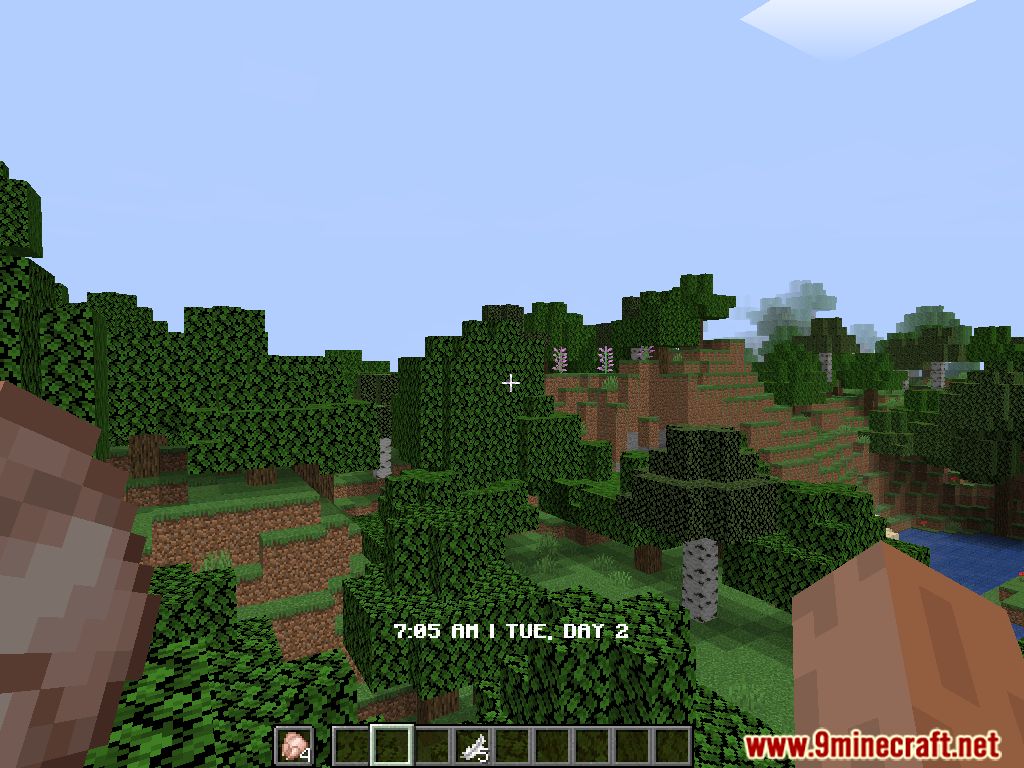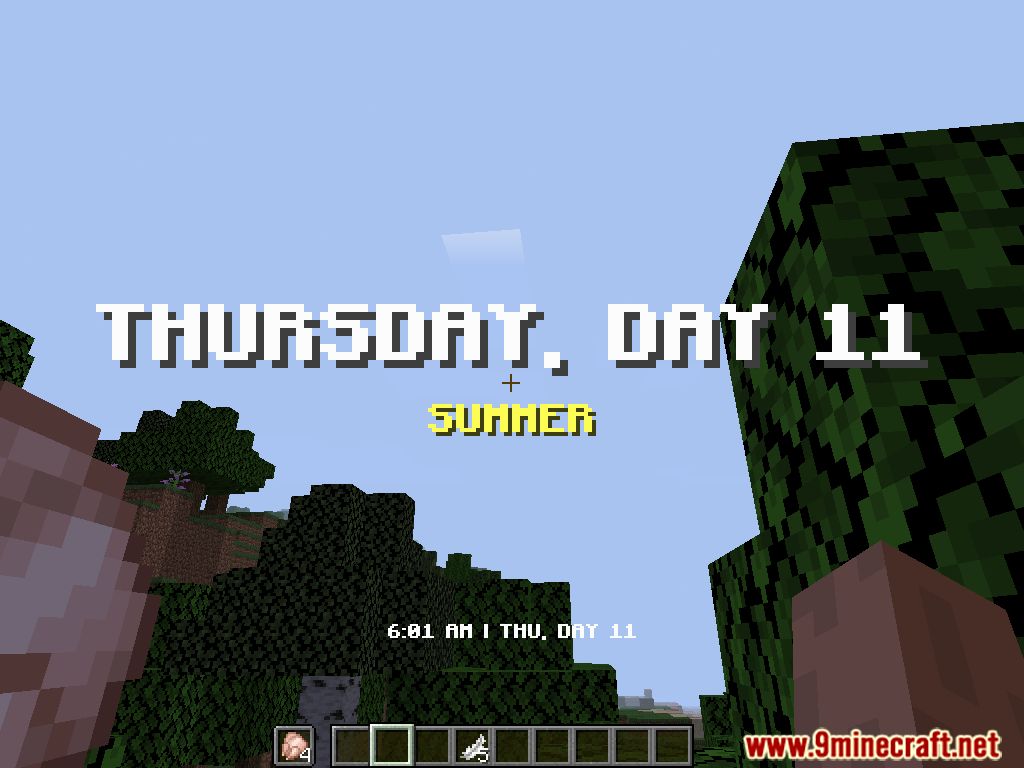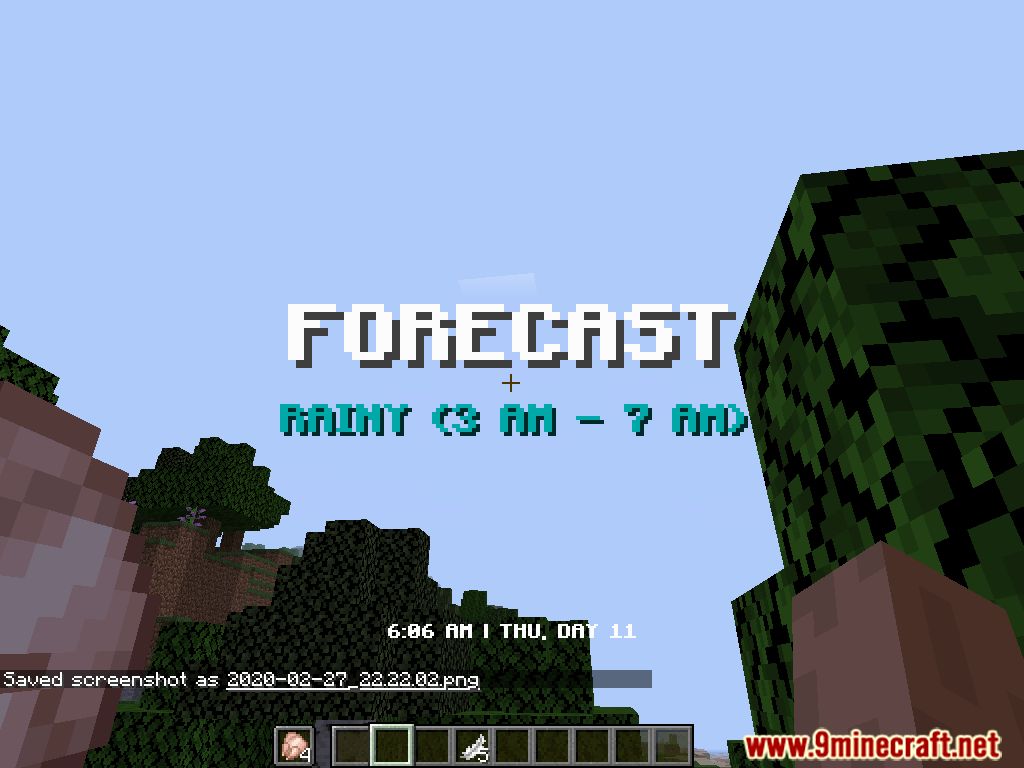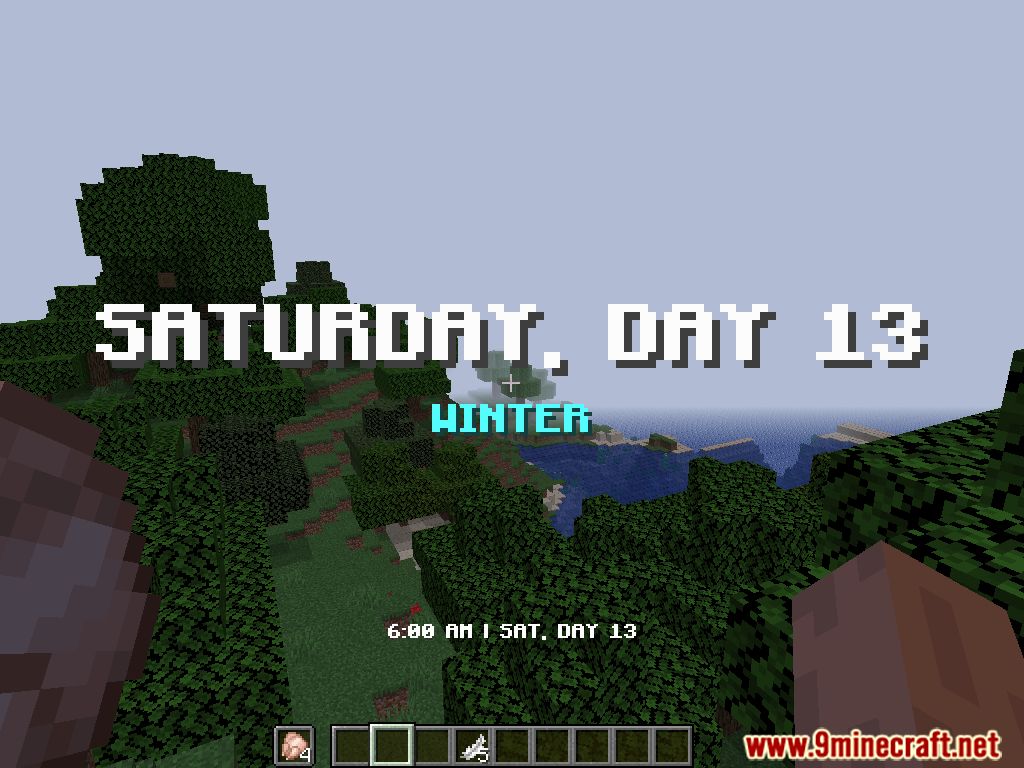 Features:
See the hours with a time counting system in a 12 hours format (AM/PM)
Weekdays and weekends;
Four seasons (Spring, Summer, Autumn, and Winter) with 28 days each
A digital clock above the hot bar showing the current hour with minutes, day of the week (from Monday to Sunday) and day of the season (from 1st to 28th)
An announcement displaying the current weekday, season day, current season and weather forecast every morning when a new day begins
Weather:
A new weather system that is generated randomly everyday depending on the current season (Summers are rainier and stormier, Winters are drier, Autumn and Spring are intermediaries!):
Sunny: No rain foreseen but a sun shining all day!
Momentary Rainy: It will rain at some time of the day and will last a few hours
Rainy All Day: Prepare your umbrellas, rain foreseen all day long!
Momentary Stormy: There will be a thunderstorm at some time of the day and will last a few hours
Stormy: Be careful, rain with dangerous lightnings are foreseen all day long!
Seasonal Weather:
Spring Pollen:

Spring only weather
Plants grows +33% faster during days with this weather condition
If players stand too much time outside they can get spring allergies

Heat Wave:

 Summer only weather
If players expose themselves, they can get heat sick
Swimming or standing inside is recommended during heat waves

 Windy:

Autumn only weather
Players fly faster with an elytra

 Snowy:

Winter only weather
Plants won't grow when the day is Snowy
Interaction:
When players are flying with an elytra during a storm, they might get strike by a lightning
When players are near bees and it's spring, there is a change of receiving speed boost (Speed II for 16 seconds)
When players are swimming and it's summer, there is a chance of receiving a swimming boost (Dolphin's Grace II for 12 seconds)
When players are near bats and it's autumn, there is a chance of receiving night vision (Night Vision I for 18 seconds)
Settings:
An in-chat data pack settings screen where you can set:
Global Settings:
Weather Generation: Whether weather should be generated with the new weather system or with the vanilla way
Environment Interactions: Whether special events happen
Plants Growth Changes: Whether seasons interfere on plants growing rate
Fancy Weather: Whether the seasonal weather particles should be generated in a better way. If enabled, it'll scan your surroundings and only show particles where it makes sense(it won't snow below a tree). Note that this option is heavy in terms of performance, so we recommend to leave it off in multiplayer.
Uninstall Datapack: Auto-uninstall when needed
Reset Calendar: Start again from Spring, 1st
Jump Through Time: Change the current day and season (cheats required)
Personal Settings:
Display method: When the hours will be displayed above the hotbar (Always, Clock in Inventory, Clock in Mainhand and Disabled)
Day Annoucement: Whether the new day is announced every morning
How to Install:
Download the data pack from the link below.
Launch Minecraft. At the main menu, choose Singleplayer.
Select the world you want to install this data pack, then click on Edit button at the bottom of the screen. Choose Open World Folder. A window will pop out — open datapacks folder. Now you should drop the data pack compressed file you have just downloaded into that folder.
Back to the game, press Save to complete.
Enter the world and enjoy it. If you didn't get the installation message, run the command /reload. If you cannot use /reload command, you should create a new world.
Seasonal Calendar Data Pack Map 1.17.1, 1.15.2 Download Links:
For Minecraft 1.15.x
For Minecraft 1.17.x
Data Pack: Download from Server 1 – Download from Server 2

Resource Pack: Download from Server 1 – Download from Server 2
Tags: