Youtuber Blocks Mod 1.7.10
70,818
views ❘
August 26, 2016
Youtuber Blocks Mod 1.7.10. Craft your favorite youtubers in Minecraft.
Step On or Right Click the Blocks to get Effects From your Favorite Youtubers.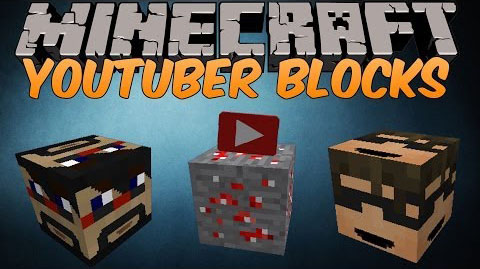 Screenshots: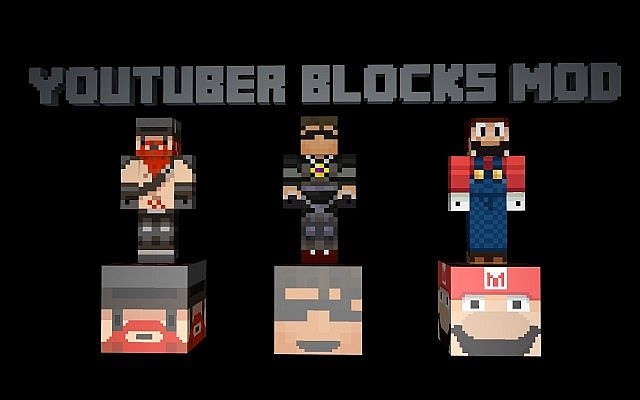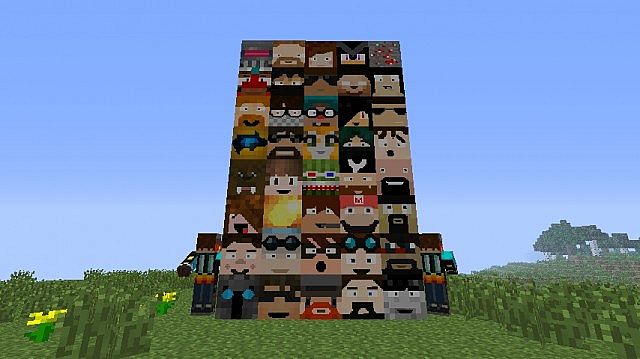 Crafting Recipes:
Recommend that you should install Just Enough Items (for mods using Forge) or Roughly Enough Items (for mods using Fabric) to view the full recipes included in this mod
Just Find Youtuber Ore: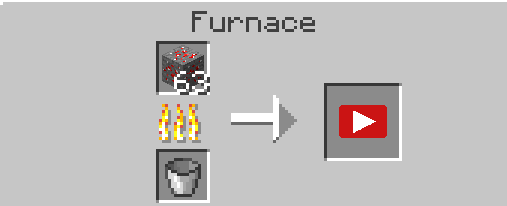 Then Surround an Item in a Crafting Table with the Youtube Essence:
PopularMMOs: Diamond Block
SkydoesMinecraft: Gold Block
Yogscast Simon: Cookie
Yogscast Lewis: Book
Yogscast Sips: Dirt
Yogscast Sjin: Diamond Hoe
Yogscast Duncan: Piston
Munchingbrotato: Potato
TheDiamondMinecart: Minecart
CaptainSparklez: Nether Star
Deadlox: Bone
MinecraftUniverse: Raw Porkchop
VideoMakerGuy: Diamond Pickaxe
Sethbling: Redstone Block
AntVenom: Spider Eye
ASFJerome: Wool
BajanCanadian: Bow
Bashur: Melon
CavemanFilms: Stone
Notch: Golden Apple
Sarc: Redstone Repeater
SSundee: Iron Sword
Stampy: Bucket of Milk
ThnxCya: Note Block
Tobuscus: Diamond Sword
Dartron: Diamond Chestplate
TCTNGaming: Blaze Powder
ChimneySwift: Bricks
ZexyZek: TNT
Bodil40: Leaves
PauseUnPause: Boat
Hypixel: Stone Bricks
AviatorGaming: Gunpowder
NoahCraftFTW: Flint and Steel
Gizzy14Gazza: Raw Beef
BebopVox: Diamond
SeaNanners: Bucket of Water
IHasCupquake: Cake
JackerTud: Item Frame
Yogscast Martyn: Sappling
Annoying Orange: Apple
iBallisticSquid: Ink Sac
ACTennisAC: Redstone Torch
Etho: Rotten Flesh
Dragonz: Redstone
Lanceypooh: Iron Pickaxe
SCMowns: Steak
SuperGirlyGamer: Lava Bucket
Gold Solace: Gold Ingot
TheAtlanticCraft: Water Bottle
Update:
Ashley Mariee: Snowball
Aureylian: Pink Dye
BigBadManPig: Cooked Porkchop
BlueBayou: Lapis
BlueMonkey: Blue Wool
CraftyGarrett: Crafting Table
Direwolf20: Compass
ExplodingTNT: TNT Minecart
Game Chap: Glass Pane
Generikb: String
GhostGaming: Ghast Tear
Guude: Cat
Hat Films: Golden Helmet
ItsJerryandHarry: Lever
KermitPlaysMC: Cactus
LittleLizardGaming: Green Wool
Lotdotzip: Cobblestone
Markiplier: Torch
Paulsoaresjr: Iron Ore
Setosorcerer: Magma Cream
Sevadus: Paper
Slamacow: Stained Hardened Clay
SubZeroExtabyte: Stained Glass
Syndicate: Wooden Sword
TheCampingRusher: Wooden Planks
TheMiningMovies: Diamond Ore
ThinkNoodles: Stick
Weedlion: Reeds
Wipper178: White Wool
Woofless: Cooked Steak
xRpMx13: Arrow

You can also craft the Honorable Mentions Block which shows some of my favorite starting youtubers. To craft it, just fill a crafting table with youtuber essence.
The Honorable Mentions Block includes:
Calitherolls
Devine Darkness
The Sploochers
Werty
The Mr.RpgLife
TheXenvex
Honorable Mention Block #2(The Middle Item is Youtuber Ore):

Dommbuscus
Drogonsleigher
MinimiteDoesMC
TyneCraft
jbyoda
TBone105Presents
How to install Youtuber Blocks Mod 1.7.10
Download and install Minecraft Forge.
Download the mod.
Go to .minecraft/mods folder.
Drag and drop the downloaded jar (zip) file into it.
If one does not exist you can create one.
Enjoy the mod.
Download Links for Youtuber Blocks Mod 1.7.10
For Minecraft 1.6.4
For 1.7.10, 1.7.2
https://dl3.9minecraft.net/index.php?act=dl&id=1406388608
Tags: