DiscoCraft Mod
61,101
views ❘
January 10, 2014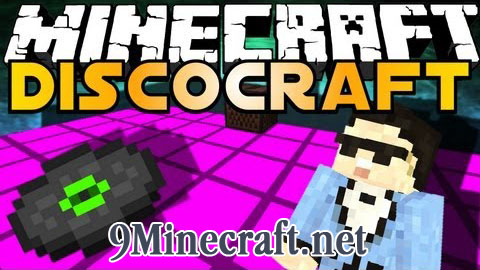 If you've ever felt the need to get down and boogie in Minecraft, DiscoCraft has you covered! DiscoCraft includes everything you'll need to build a fully functional disco in your Minecraft world and get down!
Features:
A fully functional disco ball that lights up any room with colorful reflections
Dance floors that flash synchronously and receive redstone signals wirelessly
6 new music discs with disco music produced by Kevin MacLeod
Mod Spotlight:
Crafting Recipes:
Recommend that you should install Just Enough Items (for mods using Forge) or Roughly Enough Items (for mods using Fabric) to view the full recipes included in this mod
Crafting components for disco ball (no other uses at the moment):
Disco ball! Shines pretty lights across a room! It is best to use the disco ball in a dark room. Make sure it has walls to project onto. Currently does not require redstone power.
Used in the dance floor recipe, the receiver allows redstone signals to travel wirelessly between separate
dance floor blocks
Dance floor! Similar to colored lights in other mods, except it flashes different colors. Makes a nice effect, but watch out if you have epilepsy…Note that one dance floor receiving a redstone signal will illuminate all dance floors in its vicinity because of the wireless technology it requires.
Blank music discs can be made into disco discs!
Just add dye! (Purple, blue, cyan, green, yellow or red)
How to install:
Download and install Minecraft Forge
Download the mod
Put downloaded zip file into
/Users/[Your user]/AppData/Roaming/.minecraft/mods on Windows
/Users/[Your user]/Library/Application Support/minecraft/mods on Mac folder
Do not unzip it. If you don't have a mods folder, create one
Enjoy the mod
Mod Download Links
For Minecraft 1.6.4
http://www.mediafire.com/download/vpkg7ik993l7c48/DiscoCraft+v1.2.zip
For Minecraft 1.5.2
http://www.mediafire.com/download/la7l9dn56n2mo29/DiscoCraft_v1.1.zip
Tags: