Liquid Enchanting Mod 1.12.2
37,738
views ❘
October 19, 2021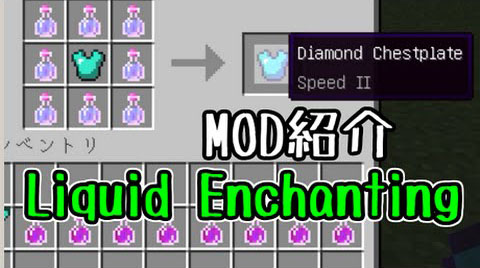 This is a simple gameplay enhancing mod, allowing you to add your favourite potion buffs to armour and weapons as if they were enchantments!
Crafting Recipes:
Recommend that you should install Just Enough Items (for mods using Forge) or Roughly Enough Items (for mods using Fabric) to view the full recipes included in this mod
To get started, you'll need 8 of your desired potions and a piece of undamaged armour or sword. In a crafting table, surround the armour or sword with your 8 potions, and the effect will be transferred onto the piece of equipment: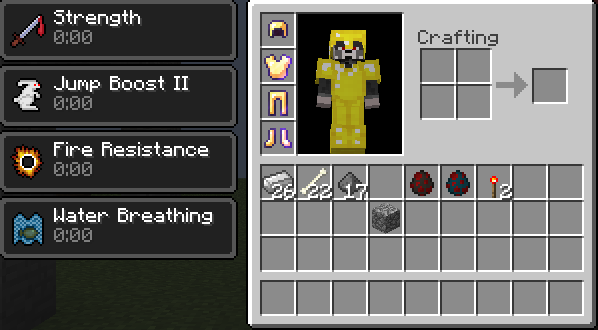 When added to armour, the potion effect will be added to the player for as long as the armour is worn.
When added to swords, the potion effect will be added to the hit mob for 10 seconds.
All 4 pieces of all 5 armor sets (yes that include chain if you can get hold of it!) and all 5 swords can be customised with a single potion effect.
All base and level 2 potions can be added to swords, but not splash potions nor extended time potions.
The same applies to armor, except for Healing, Harming and Regeneration. This is because when constantly applied these effects will either kill the player or render them immortal, which is far too overpowered. Plus, negative potions like weakness, poison and slowness can be added to armour, allowing you to apply handicaps to players on PVP servers if you desire.
As these armours are identical to the vanilla armors in all other aspects, they can be further enchanted with books or an enchanting table! But beware, these potion imbeued items are classed as new crafted items by the game. Adding potion effects to an enchanted piece of armour will cause you to lose the enchantment. Potions first, enchantments second!
Notes:
For reasons unknown to anyone, potions retrieved by brewing and from the creative inventory have different IDs. The crafting recipes use the brewed recipes, and will not work with potions cheated in. If you want to attain these armours and tools in the creative gamemode they can be retrieved pre-made from the custom tab, or through the search function by searching the potion name.
Poison potions on armour will add the status effect, but currently don't do any harm to the player.
Requires:
How to install:
How To Download & Install Mods with Minecraft Forge
How To Download & Install Fabric Mods
Download Links Liquid Enchanting Mod 1.12.2:
For Minecraft 1.8
For Minecraft 1.12.2
Tags: