Sim-U-Kraft Mod
182,883
views ❘
August 3, 2016
Sim-U-Kraft Mod is an NPC-based 'Mod' for the hit indie game Minecraft. It extends and changes the Single Player / Survival game play a little by adding aspects of 'Sim city' and 'The Sims' to the regular Minecraft game play. It extends and changes the Single player game-play by adding aspects of 'Sim city' and 'The Sims' to the game. As the player, you'll employ "Sim-U-Folks" (NPCs) to do the following: Builder, Lumberjack, Miner, Wheat,Pumpkin,Melon,Potato,Carrot Farmers, Baker, Soldier, Shepherd, Grocer, Courier, Builder's merchant, Butcher, Pig farmer, Cattle farmer, Chicken farmer, Terraformer, Glass maker…more added with each update!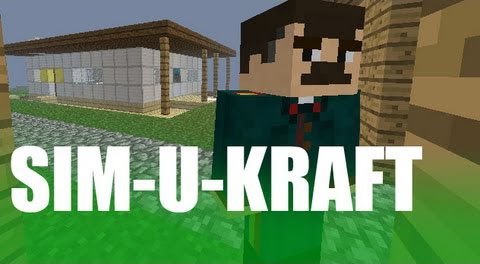 Start a new game or an existing map and "Sim-U-Folks" will wander into town. As you start off with only 10.00 Sim-U-Credits, the first thing would be to employ a Sim-U-Folk to build a house, they will then move in and start paying you rent each day. You can then use this money to employ more Sim-U-Folks to build up a huge city.
You'll need materials to build your city, so mark out an area with Sim-U-Marker posts, place a mining-box down and employ a miner to dig up tons of materials. You may also need to employ a lumberjack too for the wood-based buildings. All this building, lumber-jacking and mining makes the Sim-u-folks hungry, so employ a farmer and baker to make bread for their hungry mouths or they'll starve to death!
If playing in non-peaceful mode, you wouldn't want a creaper to blow up your folk's houses, so build a barracks and train up a few soldiers to patrol the town to slay those creapers.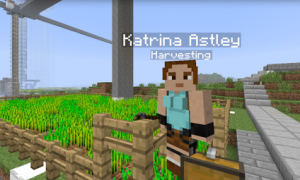 The Sim-U-Folks may like each other so much, they'll move in together, and (in a later version) have a few kiddies too. So if you want a little help in single player building a small town, or want to make a huge thriving metropolis, Sim-U-Kraft is here to help you.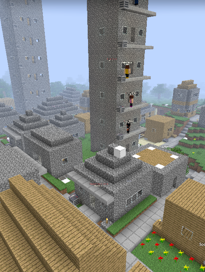 Sim-U-Kraft mod for Minecraft does NOT modify the minecraft.jar file.
Sim-U-Kraft Mod Video:
How to install:
How To Download & Install Mods with Minecraft Forge
How To Download & Install Fabric Mods
Don't miss out today's latest Minecraft Mods
Note: No need to put anything into the Minecraft.jar file (except Forge). You'll know it's worked when you start a new world or open an existing world, it will ask you if you want to run Sim-U-Kraft on this world or not. For further help and support, see below! To un-install, simply drag the Sim-U-Kraft-0.x.x.zip file out of your mods folder into the recycle bin.
Sim-U-Kraft Mod Download Links
For Minecraft 1.7.10
For Minecraft 1.6.4
http://www.mediafire.com/download/25i2ge2hm7ybq15/UNZIP+ME+-+Sim-U-Kraft-0.12.1+for+MC1.6.4.zip
For Minecraft 1.6.2
http://www.mediafire.com/download/cx920w72l1w33fl/UNZIP_ME_-_Sim-U-Kraft-0.11.4_for_MC1.6.2.zip
Other Versions:
Tags: